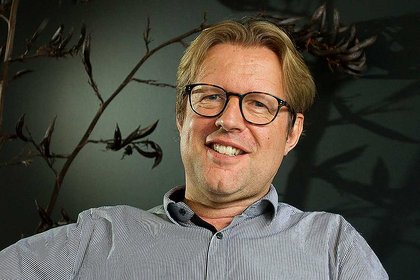 Asthma prevalence in New Zealand is among the highest in the world and there is no cure or effective prevention.
A grant from the Health Research Council of New Zealand's annual project funding round will enable researchers to assess why biodiversity may reduce allergy and asthma risks in children.
Professor Jeroen Douwes, director of Massey University's Centre for Public Health Research, has been awarded close to $1.2 million to carry out the research, over the next four years.
"There's considerable interest in understanding how exposure to the natural environment may protect against asthma, and in identifying what specific aspects of biodiversity provide the most protection," Professor Douwes says. "This is particularly important, in light of the excessive decline of biodiversity observed in the past few decades, which has coincided with a rapid increase in prevalence of allergies and asthma globally. 
"It's a chronic health condition affecting 334 million people worldwide, and although treatment has improved, it's not effective for all asthmatics. Also, there is no cure."
In a previous research project, Professor Douwes and colleagues assessed the association between the natural environment and asthma in 49,956 children born in New Zealand in 1998. The children were followed until they were 18 years old. Researchers used satellite imagery and land-use data to assess children's lifetime exposure to the natural environment and vegetation types.
"In that study, we showed that biodiverse green space was associated with a reduced risk of asthma. We hypothesise this may be due to increased environmental and human microbial diversity, which have been shown to direct the immune system away from developing allergies and asthma."
The new study will involve 900 urban children from Wellington and will, for the first time, assess whether biodiversity reduces allergy and asthma risks through differences in exposure to microorganisms in the environment and the gut. The study will also investigate the specific immune responses involved, whilst taking into account the effects of nutrition, physical activity and stress. Participating children will undergo lung function and skin prick testing, and they will be asked to provide a blood and faecal sample. Dust samples will be collected from their home and the children's schools.
"The overall objective is to increase our understanding of modifiable causes and mechanisms of allergies and asthma, enabling the development of novel and targeted interventions. Going forward, this research could help inform urban design with the aim of reducing the global burden of childhood asthma," Professor Douwes says.
College of Health Pro Vice-Chancellor Professor Jane Mills congratulates Professor Douwes. "Professor Douwes and his team have developed a cutting-edge study design that has the potential to create a major change in the way we think about green spaces as a mechanism to improve the health of Kiwi children. The study originated from an earlier strategic investment grant from Massey to develop a programme of research on biodiversity and health. The College of Health is strongly committed to the promotion of wellness as the first line of intervention in ensuring the health of New Zealanders."
The study, entitled Biodiversity and microbiota: a novel pathway to allergy and asthma prevention, will be carried out over four years, and begins in September. The study will be conducted in collaboration with researchers from University of Otago; Flinders University, Adelaide, Australia; and the United States Department of Agriculture Forest Service, Portland, United States.
It is one of 53 projects awarded a total of $60.3 million in funding, and forms part of the HRC's $81 million investment in new research projects and programmes announced today by Minister Megan Woods.