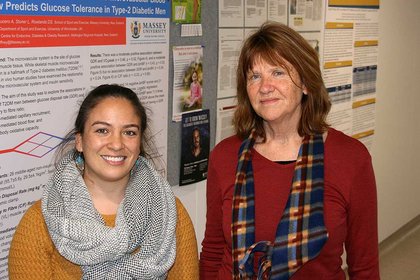 Last updated: Thursday 25 August 2022
Two School of Health Sciences academics have been awarded Associate Fellow status from the Higher Education Academy.
Senior tutor Christine Roseveare and tutor Victoria Chinn participated in a professional development course last semester, which focused on evidence-based strategies to teach and support learning in higher education. The course was facilitated by John Milne and Fiona Murray from the National Centre for Teaching and Learning.
Once the course modules are complete, participants develop an "account of professional practice" (APP) that demonstrates how they apply their knowledge, activities and professional values in practice. The APP, supplemented with two references from colleagues who can comment on their practice, is then sent for review by members of the Higher Education Academy. The Associate Fellow status is the first of several that provide recognition of your experience and commitment to teaching and supporting student learning.  
"As an early career academic, the course really helped to broaden my perspective of teaching and helped me to remember to look from the student's point of view," Ms Chinn says. "Students spend most of their time learning outside of the classroom, so how can you make your lecture best facilitate student learning outside the classroom, rather than just relaying content that a student could read from the material you've already provided?
"I also really enjoyed sharing and learning information from the other lecturers participating in the course. It was helpful to hear that many of us share the same barriers, for example eliciting information from students through Q & A, directing discussion, structuring course content to enable learning, and I enjoyed learning about the different strategies others used to address these barriers," she says.
Ms Roseveare also found hearing the experiences of other lecturers and the tips they had to share very useful, both through the live course discussions and working through the material provided through the course. "Submitting the portfolio encouraged me to really think about my teaching and to get useful feedback too, about where I'm on the right track and what I could develop more to help students learn."
Associate Professor Rachel Page, head of the School of Health Sciences, says, "The Higher Education Academy Fellowships are a great way of demonstrating and recognising our staff commitment to their learning and teaching practice. I know Christine and Victoria love academia and are passionate about student engagement no matter what type of delivery, so I was so pleased to see their teaching portfolios being recognised."