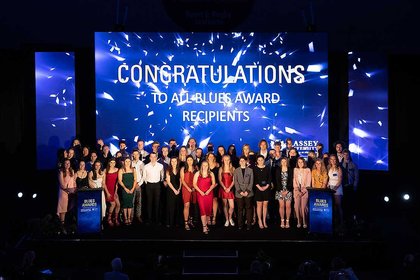 Last updated: Friday 18 March 2022
After the cancellation of last year's Blues Awards due to Covid-19, Massey University is celebrating the 2020 and 2021 finalists and winners online this year.
Next week, the virtual event will see more than 200 athletes receive awards, and the announcement of the Sportsman and Sportswoman of the Year awards. Blues are awarded to high-achieving students who have also excelled in their sporting codes, recognising students from all campuses, as well as those studying via distance. This year will also see the introduction of a Supreme Award – a new award presented to one of the major award winners on the night.
Across the two years, 222 student athletes will receive Blues, with 312 trophies and pins being awarded consisting of 113 trophies for first time Blues recipients, and 199 pins for athletes getting an award for a second or subsequent year. Six athletes are receiving Blues for their performance competing in two different sports.
The guest speakers this year are Blackstick and Bachelor of Business student Nic Woods and Football Fern and Bachelor of Sport Management student Paige Satchell. Nic attended both the Rio and Tokyo Olympic Games and is currently overseas on a hockey contract, and doing some work experience to support the completion of his degree. Paige attended the Tokyo Olympics and has a professional contract with Canberra United to play in the W-League in Australia.
Massey University High Performance Coordinator Tamara Scott-Valath says it's really special to be able to recognise the achievements of the student athletes, after such a tumultuous time.
"This year is obviously different with the pandemic affecting both domestic and international sporting competitions, limiting opportunities for athletes to travel and compete at a high level within the relevant period for our Blues Sports Awards.
"Last year we made the decision to cancel our awards ceremonies due to the uncertainty of the pandemic, so it's really exciting to have a new virtual format this year to be able to celebrate all our recipients and major award winners. A major added benefit with the online event is that we're able to include all our campuses in one event, and our recipients who are based in other areas of New Zealand or overseas that can't usually attend a function on campus, can join in regardless of their location."
Ms Scott-Valath says the fact the students are able to perform at such a high level in their sport, while successfully completing their studies, is an incredible accomplishment.
"Each year as we undertake the nomination and selection process for our Blues recipients, I'm reminded just how amazing these individuals are – reading through their sporting achievements and seeing their academic achievements shows just how determined and dedicated they all are to achieving their goals."
Event details
Date: Wednesday, October 13
Time: 6.00pm
Live stream online – to attend the live stream please register here.
2021 Finalists
Distance Sportsman of the Year
Regan Gough – Cycling
Tom McKintosh – Rowing
Zac Reid – Swimming and Surf Life Saving
Ben Waine – Football
Phillip Wilson – Rowing
Distance Sportswoman of the Year
Justine Bishop – Judo
Lisa Carrington – Canoe Sprint
Brooke Donoghue – Rowing
Kerri Gowler – Rowing
Campus Sportsman of the Year
Joseph Gavigan – Rugby
Connor Greentree – Hockey
Edward Lau – Badminton
Brad McNaughton – Rugby
Ben Strang – Rugby
James Thompson – Snowboarding
Charl Ulrich – Hockey
Campus Sportswoman of the Year
Kirsten Fisher-Marsters – Swimming
Stacey Fluhler – Rugby Sevens and Rugby
Erica Gatland – Rock Climbing
Zoe Hobbs – Athletics
Phoenix Reid – Artistic Roller Skating
2020 Finalists
Distance Sportsman of the Year
Finn Butcher – Canoe Slalom
Marcus Daniell – Tennis
Regan Gough – Cycling
Stefan Marinovic – Football
Rhys Marshall – Rugby
Nic Woods – Hockey
Distance Sportswoman of the Year
Brooke Donoghue – Rowing
Kerri Gowler – Rowing
Jessie Hodges – Cycling
Juliana Hung – Golf
Amelia Kerr – Cricket
Olivia McTaggart – Athletics
Meikayla Moore – Football
Tyla Nathan-Wong – Rugby Sevens
Grace Prendergast - Rowing
Manawatū Campus Sportsman of the Year
Sam Bentham – Triathlon
Finn Brown – Judo
Ray Toole – Cricket
Te Rangatira Waitokia – Rugby
Manawatū Campus Sportswoman of the Year
Jessica Burgess-Smith – Target Shooting
Meaghan Reesby – Target Shooting
Maia Wilson – Netball
Auckland Campus Sportsman of the Year
Chris Arbuthnott – Para-swimming
Connor Greentree – Hockey
Edward Lau – Badminton
Brandon Matthews – Waterpolo
Charl Ulrich – Hockey
Auckland Campus Sportswoman of the Year
Lauren Down – Cricket
Brooke Tamepo – Ice Figure Skating
Pia Tapsell – Rugby
Hannah Wilton – Aerobic Gymnastics