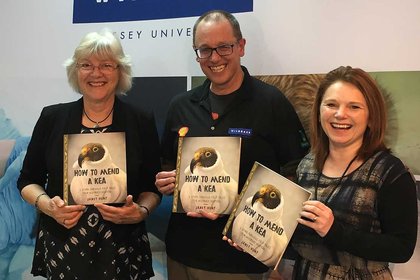 Last updated: Thursday 23 June 2022
The latest release from Massey University Press, How to Mend a Kea, proves it takes a village to write a book.
Aimed at young readers it is about the services provided at Massey University's Wildbase Hospital. It is written by Janet Hunt, one of New Zealand's foremost natural history writers and conservationists.
Press publisher Nicola Legat says the book was a team effort, "we were thrilled to have someone of Janet's calibre write How to Mend a Kea, but the book wouldn't have been possible without the contributions of Massey staff. In particular, Wildbase director Brett Gartrell and the hospital's crack team of vets, vet nurses and vet technicians."
Ms Legat also credits the book's photographers-including Massey digital media production manager Dave Wiltshire-with bringing Ms Hunt's stories.
These include a kea with the broken foot, a little blue penguin covered in oil from the Rena disaster, a kererū with a broken wing and a whio that could not fly.
Ms Hunt says her research for the book included spending time at the hospital "looking over the shoulders of the vets and technicians as they worked through a day, watching recent arrivals being 'worked up' and surgeries as well as the twice-daily rounds of care, cleaning, feeding, medicating", imbuing her with respect for the work done by the team.
"I was so impressed by the teamwork. Every time a creature was being treated there were so many hands, holding it, carrying out whatever procedure, attending to technical things such as supplying anaesthetic or carrying out radiographs (X-rays). There are great communications systems, but above all, it's the dedication and caring of the staff that really stays with me, not just for the patients but for each other and for the many trainee vets and technicians who come through."
Professor Brett Gartrell says, "we want to thank Janet Hunt for creating such a beautiful book about our work. She has done a fantastic job of capturing some of the challenges we face every day. We hope this book inspires the next generation to care for our native wildlife and help us carry on the important work of Wildbase and all our conservation partners".
How to Mend a Kea launched last week and is available for sale, with some of the proceeds from sales being donated to the hospital.
About Wildbase:
Wildbase Hospital is part of the Institute of Veterinary, Animal and Biomedical Sciences at Massey University in Palmerston North. It provides care and rehabilitation to sick and injured native animals, but is also a training hospital and important source of wildlife research. It works closely with the Department of Conservation, veterinary clinics, bird rescue centres, wildlife parks and sanctuaries, and the general public.