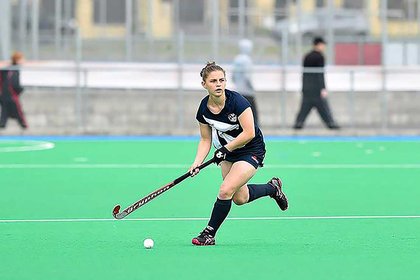 Last updated: Thursday 17 March 2022
High Performance Sport New Zealand (HPSNZ) has awarded Massey's High Performance Coordinator Danielle Jones a place in Te Hāpaitanga coaching initiative.
Te Hāpaitanga is one of a number of HPSNZ initiatives in their ongoing commitment to Women in High Performance Sport. It is a holistic coaching development initiative designed to enable more females to pursue and maintain a career in high performance coaching in Aotearoa New Zealand.
Over 18 months, Te Hāpaitanga will provide the 16 coaches in the programme a range of opportunities that test and develop their coaching capability and allow them to develop new skills to navigate a complex and challenging career in high performance sport.
Ms Jones has been a High Performance Coordinator on Auckland's campus since April 2019. She's a long time hockey player, having played in all the representative age group teams for Auckland and New Zealand.
"I made my debut in 2011 when I was 19. I was in and around the national squad for six years and then had a major back injury that left me with a very tough decision to retire earlier than planned. But it led me down the road I am today. I am passionate about giving back to the sport and providing opportunities for people to play and support the small group of players wanting to take their playing ambitions to the next level," she says.
Te Hāpaitanga connects emerging female coaches with their peers and established female high performance coaches, providing mentoring and inspiration.
The scholarship is a great opportunity to continue to develop learning as a coach, she says.
"This will really help me take my coaching to the next level. I love what I do now, but I am always interested in learning and developing more in my coaching. The other great thing is getting to connect with other like-minded women that you don't get to meet every day.
"Te Hāpaitanga provides a connection between HPSNZ, Hockey New Zealand and me, where I get to learn and challenge myself in the areas that are going to most likely support my growth, and in time gain more permanent coaching opportunities within Hockey New Zealand. The scholarship is there to support me in any way possible to help me reach my goal of being a successful high performance coach."
Ms Jones says she loves her role at Massey and the support she can give to athletes off the field.
"The coaching I do also helps me to support the athletes at Massey better as it keeps me connected to the high performance world and where that environment is at for athletes in New Zealand."
Sport Advancement Manager Jacob Oram says, "It's great to see Danielle get this opportunity to upskill and develop her coaching as there is some definite crossover between her Massey responsibilities and what she'll gain from this external programme.
"While it's awesome to see Danielle grow, I have no doubt that it'd also provide benefit to the high performing athletes that she interacts with here at Massey."