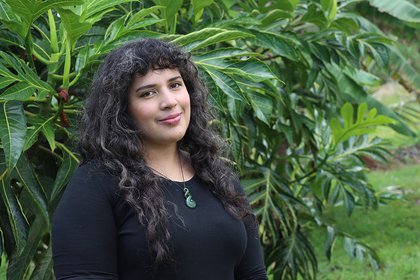 Terina Kaire-Gataulu will receive the Global Winner award at a conference in Dublin in November for her paper (Re)Claiming ʻŌlelo: The impact of language acquisition on Native Hawaiians submitted in the Anthropology and Cultural Studies category.
Founded in 2008, the non-profit Global Undergraduate Awards aim to empower students and help them to recognise the potential their undergraduate work can have in making a better world for all. Entrants can submit work to one of 25 categories representing a broad range of academic disciplines.
A Māori/Niuean New Zealander, Ms Kaire-Gataulu moved to Hawaii in 2019 to join her native Hawaiian husband.
"It worked really well studying by distance with Massey. I had a great experience and I thrived. It helped that I was a bit older. I started my study at 27 during COVID-19, so it gave me something to keep busy."
It was in Hawaii that Ms Kaire-Gataulu's interest in Pacific Island identity grew.
"A lot of Pacific Islanders and Hawaiians I know in my community here are very proud of their identity. I was curious about how engaging with cultural identity through language can have an impact on someone, especially as an adult, and how it can influence your perception of the world.
"During my research I came across a lot of literature on learning one's indigenous language as a child, but not a lot of research looking at that kind of journey for adults."
In the 1700s, an estimated 500,000 people spoke 'Ōlelo Hawai'i. In 1896 a law was passed mandating the use of the English language in schools and banning the indigenous tongue. By 1978, when a constitutional convention made 'Ōlelo Hawai'i an official state language, it was on the verge of extinction. Today, thanks to immersion Hawaiian language courses in schools and college and university programmes, the number of Hawaiian speakers has grown to around 10,000.
"In the 70s and 80s the situation here was very similar to the Māori revitalisation movements happening in New Zealand. But there were some interesting differences. In New Zealand we were lucky that we had Māori TV and it was common to see media using Te Reo. But here, there was nothing like that unless it was in a tourism context."
In her research, Ms Kaire-Gataulu interviewed three adult native Hawaiians who began learning their native language at the age of 19, 26 and 35 respectively through the University of Hawaii and a community college.
"The research showed that language acquisition helped these adults to feel more connected to their cultural identity but also to their family and their family's history. It provided them with a different way to interact and engage with the world," she says.
"Specifically it changed their relationship with the environment. Similar to Māori, they see the land as a person to be taken care of rather than a commodity to be used. The possessive pronouns you use to refer to your relationship to the land are the same as you use for a parent."
Her report notes a comment by one participant that learning 'Ōlelo Hawaiʻi had allowed him to be more confident in who he was.
"This shows how learning one's indigenous language can have a profoundly positive impact on a person's life outside of an academic setting," Ms Kaire-Gataulu says.
Things were different for Ms Kaire-Gataulu when she was growing up in Auckland.
"Here, Pacific islanders and Hawaiians are proud of their heritage. I was so ashamed of my heritage when I was at school. Māori and Pacific Islanders were depicted in a very negative light in the media. They were typically shown being arrested and highlighted in negative statistics. It was rare to see someone succeed outside of sport."
"The only positive role model I can remember was Dr Victor Kahu (played by Calvin Titeao) in Shortland Street on TV. He was a doctor and the CEO of the hospital.
"I didn't realise Māori could be in charge of a hospital. It didn't seem to be in the realm of possibilities in my mind as a kid. So it was a bit odd for me to be in a space suddenly where people are so passionate about their Pacific Island heritage."
Ms Kaire-Gataulu believes that if the Hawaiian language was more widely disseminated beyond the academic setting there would be a better understanding of the inherent value of the land in Hawaii.
"Hawaii has been sold to the world as a tourist paradise since the 1900s. I believe if language were more widely disseminated it would make people realise this place is sacred and valuable, not for the profits generated by the tourist industry.
"There is a level of expectation here on the part of American tourists in particular that the people are happy and willing to serve. There's no awareness that people here have lives, they live here, their purpose is not to fulfil a tourist fantasy," she says.
More information about the Global Undergraduate Awards can be found here.
Wednesday 25 May 2022
A new exhibition co-organised by the School of Humanities, Media and Creative Communication, the Museu do Índio in Brazil, and Te Manawa Museum , is now open.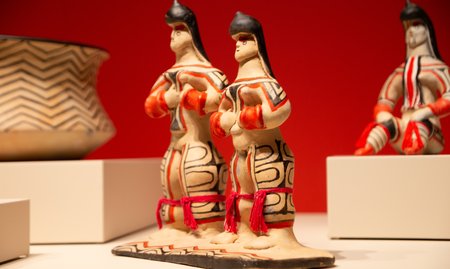 Thursday 24 September 2020
A study on the motivations of non-Māori to learn te reo Māori suggests Pākehā identity is increasingly tied to acquiring a deeper knowledge of, and ability to speak, the indigenous language.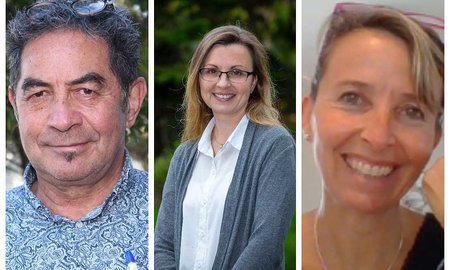 Monday 29 July 2019
School of Food and Advanced Technology PhD candidate Chris Vogliano recently presented his research at the Agriculture, Nutrition and Health Academy Week in Hyderabad, India.