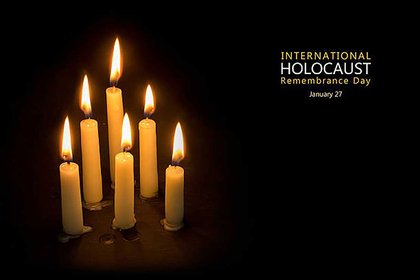 Last updated: Friday 18 March 2022
By Associate Professor France Grenaudier-Klijn
On 27 January 1945, the Soviet Army's 322nd Rifle Division entered the extermination camp of Auschwitz-Birkenau, 60 kilometres from Krakow, Poland and found around 7,000 inmates - the Nazis having previously evacuated some 60,000 prisoners on what became known later as the "Death Marches".
Sixty years later, on 1 November 2005, following an initiative from the State of Israel, 104 Member States of the United Nations voted General Assembly resolution 60/7 which called for an official day of remembrance for Holocaust victims.
Prior to 2005, several countries, such as Germany since 1996, and the United Kingdom since 2001, had officially commemorated the Holocaust, but the adoption of resolution 60/7 led to an increasing number of nations, for the most part in Europe, but also in the United States, Israel, and Argentina, to call for an official day of remembrance.
New Zealand too honors victims of the Holocaust, an event chiefly driven by the Wellington-based Holocaust Centre of New Zealand/Te Pūtahi Urupatu o Aotearoa. Commemorative events, held in Parliament in the presence of members of the Jewish community in Aotearoa, members of parliament, and family of survivors, include lectures, speeches, homages, and photographic exhibitions, as well as a prize giving for the annual Paul Seideman Composition Prize, an essay competition for New Zealand secondary students created in 2014.
The theme chosen by the Holocaust Centre of New Zealand for the 2022 United Nations International Holocaust Remembrance Day is 'Resistance', a timely reminder in the face of growing antisemitic discourses and behaviours in many places in the world.
Associate Professor France Grenaudier-Klijn's research focuses on French post-Holocaust literature. She is based in the School of Humanities, Media and Creative Communication, in Manawatū.