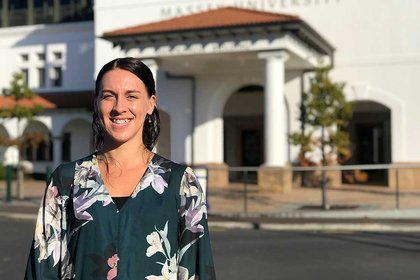 Last updated: Tuesday 13 September 2022
Costs of poor or delayed infant neurodevelopment are far-reaching and can be lifelong. But little is known about maternal exposures to environmental pollution and nutrition, and their effect on infant brain health.
Now a new project, led by Dr Jamie de Seymour from Massey University's School of Sport, Exercise and Nutrition, will study more than 1000 mothers and babies from Chongqing, China to investigate the relationship between dietary patterns and exposure to environmental pollutants during pregnancy, and their infant's brain development at 12 months of age.
The project is funded by the Health Research Council of New Zealand (HRC) in partnership with the National Natural Science Foundation of China, who match-funded the Chinese research team who will work alongside Dr de Seymour. It will involve analysing questionnaire answers to assess exposures to pollutants and dietary consumption, as well as analysing metabolites in the mothers' hair and blood samples, using metabolomics (the study of the set of metabolites present within a living system).
"We want to understand the underlying metabolic mechanisms linking maternal exposures and infant neurocognition," Dr de Seymour says. "Understanding how maternal exposures affect metabolism and lead to changes in infant brain health, can facilitate the development of targeted interventions during pregnancy to improve infant neurodevelopment."
The participants, who have already been recruited, were required to complete a questionnaire of their food choices during pregnancy, a pollutant exposure questionnaire, and provide hair and blood samples. The infants all completed a Bayley Scales of Infant and Toddler Development test at 12 months of age.
Dr de Seymour will be assisted in her study by Dr Kathryn Beck and Dr Cathryn Conlon from the School of Sport, Exercise and Nutrition, alongside Dr Beatrix Jones, Department of Statistics, University of Auckland, Professor John Colombo, Department of Psychology, University of Kansas, United States and Associate Professor Ting-Li Han, director of the Mass Spectrometry Centre of Maternal-Fetal Health, Chongqing Medical University, China.
The study, entitled Effect of maternal diet & pollutant exposure on infant neurocognition at 1 year, is being funded by the HRC-NSFC Biomedical Research Fund. These grants provide research funds to support emerging researchers who are seeking to establish independent careers whilst simultaneously developing collaborative linkages with China based collaborators. Dr de Seymour has been awarded $99,868 over two years, to carry out the study, under the Emerging Researcher First Grant.
College of Health Pro Vice-Chancellor Professor Jane Mills says Dr de Seymour is one of Massey's brightest young researchers. "This very important work has implications for mothers and babies in New Zealand, and around the world, reflected by the collaboration with researchers from the United States and China. Dr de Seymour put forward a very strong and well thought out funding application, and this research will build on her already well established relationship with Chinese researchers. I look forward to seeing the outcome of this work."
Dr de Seymour completed her Bachelor of Science with a double major in human nutrition and psychology and Bachelor of Science with honours in human nutrition at Massey. She completed her PhD at the University of Auckland, before moving to South Australia to work in research at the South Australian Health and Medical Research Institute. This year, Dr de Seymour returned to Massey for her first post-doctoral fellowship, which is funded by Lottery Health Research.