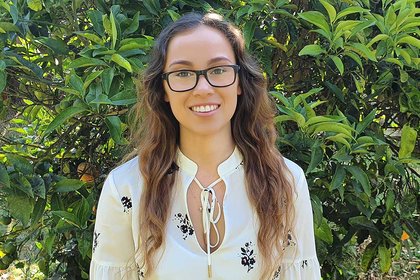 Last updated: Tuesday 5 April 2022
A Massey University Masters student has won a Ministry for Primary Industries (MPI) 2020 Postgraduate Science Scholarship.
Izabella Norris is one of a group six students from around New Zealand who are undertaking PhD or Masters research that will benefit New Zealand's primary industries.
After studying a Bachelor of Science with a double major in Animal Science and Physiology in Manawatū, Ms Norris decided to choose a topic for her Masters that would appeal to her interests in animal welfare policy analysis.
Her Masters research will be an investigation of fish welfare issues in New Zealand and analysis of current fish welfare documents, regulations and policies for the generation of welfare indices.
"After meeting with lecturers in the Animal Welfare Science and Bioethics Centre, I began gathering information on fish welfare issues and quickly began to see the little consideration they get in terms of welfare protection compared to some other vertebrates. This quickly grew my interest in the proposed project and in fish themselves," she says.
Ms Norris says that New Zealand currently has no specific Code of Welfare for the aquaculture industry or fish welfare. "The aim of my research is to provide the necessary groundwork for the development of a Code of Welfare for commercially farmed fish. This includes identifying fish welfare indicators and their relevance in NZ aquaculture systems, and identifying any potential issues present in our current systems."
Ms Norris began her coursework earlier this year and will begin her research later this year. Luckily, the disruption of COVID-19 has not affected her studies so far.
"My current plan is to do a lot of document analysis of scientific literature and legislative documents pertaining to fish welfare. I will also be collaborating with the likes of Plant and Food Research and the Cawthron Institute to develop a greater understanding of farmed fish welfare and how this relates to systems in New Zealand."
The Masters scholarship includes up to $12,000 of funding to help complete research, along with mentoring from MPI scientists and professional development to help the researchers fast-track their career in the primary industries.
She says the scholarship from MPI will allow her more time to focus on her research, with a contribution to her living costs. "The MPI mentor aspect will help me to understand how the government works in relation to the development of legislation and will allow me to build relationships with those working in government and industry."