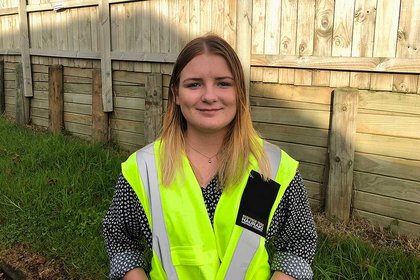 Last updated: Thursday 18 August 2022
First year health sciences student Kelcie Mills has picked up a $15,000 Zespri scholarship, thanks to her commitment to safer, more healthy workplaces.
Kelcie was awarded the kiwifruit marketing company's inaugural three-year scholarship after submitting an essay outlining the far-reaching effects of improved workplace health and safety practices in New Zealand.
The 19-year-old's winning essay describes an alarming number of incidents and fatalities in New Zealand workplaces and maintains addressing these issues would create more engaged, productive workers, with higher morale.
"Health is now being identified as more than just physical," she says. "You can't cover emotions with a hard hat and earmuffs and hope for the best."
Kelcie had started a business management degree when workplace experience led her to change tack. She is now working at Hauraki District Council while studying extramurally, aiming for a double major in occupational health and safety and environmental health.
"After realising I had more of a 'want to help' mind than a 'money making' mind, I figured that perhaps business management was not the career path for me. It is hard to understand how New Zealand business culture could be impassive about improving their health and safety."
Zespri will award Kelcie $5000 per year over the next three years while she completes her degree. Zespri's chief grower and alliances officer Dave Courtney says his team was impressed with Kelcie's obvious passion for her chosen field of study.
"Kelcie demonstrated considerable commitment and huge enthusiasm for a subject that is really important for us," Mr Courtney says.
"Her goal is to become the kind of approachable, knowledgeable person who can empathise with workers while improving their working environment. That's exactly the kind of attitude we are actively encouraging in our own industry."
In October 2017, Zespri and WorkSafe NZ finalised details of an enforceable undertaking agreement that aims to raise health and safety standards in and around the kiwifruit industry. The scholarship is part of this programme.