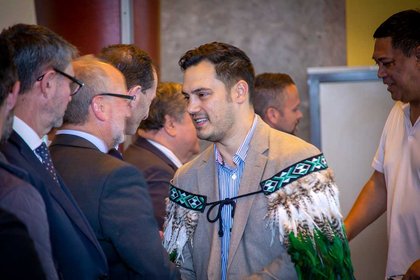 Last updated: Wednesday 6 April 2022
The new Deputy Vice-Chancellor Students and Alumni Tere McGonagle-Daly, of Ngāti Whakaue ki Maketu, was welcomed today with a pōwhiri at Te Pūtahi-a-Toi on the Manawatū campus.
Massey Vice-Chancellor Professor Jan Thomas said the university had been eagerly awaiting Mr McGonagle-Daly's arrival.
"You honour us by joining our whānau and bringing your own whānau to New Zealand," Professor Thomas said. "We have bought Tere in because of his work with students so that he may help us with our student voice, our student journey and how we serve students."
Mr McGonagle-Daly said he looked forward to the journey ahead.
"It is wonderful to be back in New Zealand," Mr McGonagle-Daly said, "to be a part of this whānau looking to make a difference to students and the whole of the university."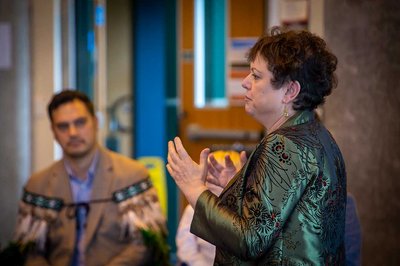 Welcoming home
On Monday there will be a mihi whakatau for Mr McGonagle-Daly on the Auckland campus, where he will be primarily based.
Mr McGonagle-Daly was appointed in July and was previously Pro Vice-Chancellor, External Relations at Solent University in Southampton, England.