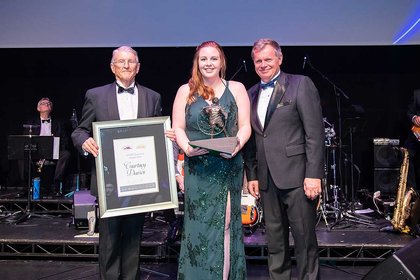 Last updated: Thursday 7 April 2022
Massey graduate Courtney Davies has received the top award at the AIMES Awards Gala Dinner over the weekend for her work in science, education and agriculture.
Run by the North Harbour Club and Charitable Trust, the awards recognise outstanding young people who are achieving in arts, innovation, music, education, sport and service to the community (AIMES).
Miss Davies received the Innovation Award and $15,000 and then selected ahead of other category winners for the Supreme Award, which comes with the Sir Peter Blake Trophy and an additional $15,000. Previous winners include singer-songwriter Lorde and golfer Lydia Ko.
After arriving home from the Youth Agricultural Summit in Brazil just hours before the event, the microbiologist says she was stunned to receive the award.
"The North Harbour Club encourages me to keep going out and striving for excellence in the community, not only for me, but for the positive outcome it can have to future support young people in the projects I am associated with," Miss Davies said. "I am excited to get back out in the community and keep striving for positive change throughout science, agriculture and education by providing opportunities to our next generation."
Miss Davies graduated with a Master of Natural Sciences this year, earning distinction for her thesis. Working with Dr Heather Hendrickson, her research focused on isolating the protein that enables bacteriophages (viruses that infect bacteria) to kill bacteria. She was able to find this mechanism and use it to bioengineer an antimicrobial tool. The tool, a very small biodegradable nanobead, is designed to be used as a spray or coating for things like hospital masks and areas where harmful bacteria can interact with a surface and potentially harm people.
Having won numerous scholarships and awards during her studies, including the AIMES Emerging Talent award in 2017, Miss Davies has made the most of her hard work. She is currently working as a virtual reality environmental educator with the Sir Peter Blake Trust.
While working she plans to enrol in Massey postgraduate business papers and some Harvard University general courses.
She says she will also use some of the funding to attend the Agricultural Shows of Australia Next Generation Conference in January as well as pursuing speaking opportunities around the world.
The awards were presented at the Bruce Mason Centre last Saturday.