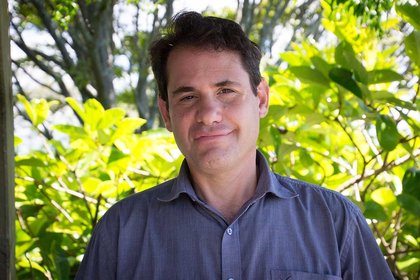 Last updated: Monday 21 March 2022
A poetic thread drawing on the language of 17th century scientists to explore modern love, marriage and the passing of time is at the heart of Bryan Walpert's new poetry collection.
Brass Band to Follow (Otago University Press) is his fourth poetry collection. The Professor of Creative Writing is based at Massey University's Auckland campus in the School of Humanities, Media and Creative Communication.
Bryan says his fascination with early science writing and discoveries sparked an idea for a series of poems about relationships, domestic life and middle age in the 21st century. He borrows from the writings of Robert Hooke (1635 – 1703) – who coined the term 'cell' – and of Robert Boyle (1627 – 1691) – one of the pioneers of modern chemistry – for poems that make up a third of the collection.
These poems are the latest manifestation of his predilection for the poetic opportunities and intersections of science and literature – a topic he explored in his book, Resistance to Science in Contemporary American Poetry (2011).
The book title and final poem references a more contemporary scenario and resonates with his observations of midlife and the passage of time. Brass Band to Follow echoes the words on a sign that caught his eye at a small town Christmas parade.
"As soon as I saw the banner, the phrase suggested itself to me as metaphor for the promises life seems to offer when we're younger and which are not necessarily fulfilled," Bryan says. "It struck me viscerally, making me laugh but also making me sad. It so happened that my son, who was quite young then, was in the parade, and of course that was an emotional moment in its own way as he was so excited to be in it instead of just watching it.
"I was hoping it would live up to his expectations. So the whole thing led to the title poem of this collection. I see this as a "middle age" collection in a number of ways — watching my kids grow up, watching myself growing older — and both the poem and its title seem to fit that theme."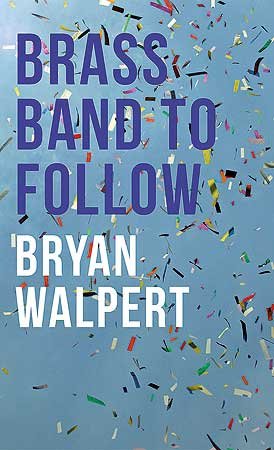 Some of the poems in the section titled Prompted were actually prompted by a writing exercise he sets for his creative writing students and often does himself. It involves a word generation exercise and then writing a poem using a specific words.
"I say to my students, 'you don't need to come into [writing] a poem with an idea, you can just follow language'. And sometimes these are some of the most interesting poems they produce because they're just following the language, they not trying to get across a message or an experience. Interesting things happen – and it's the same for me."
Students enjoy the process and are surprised at the results. For him too, the process opens the way for discovery, which he says is: "one of the great pleasures of writing."
A wedding poem he wrote for friends in New York who married pre-COVID is one of his favourites in the book.  He read the poem at the wedding in 2019 and got good feedback: "While the wedding day is all about celebrating, fun and gifts, marriage is about patience, and generosity and admitting you're wrong. Dealing together with the challenges the world presents."
Blending humour with the serious side of a wedding, the poem Drink to me with thine eyes reminds us that; "Marriage is not the wedding day. Marriage is every day after that – that's the perspective middle age gives you."
BRYAN WALPERT is the author of three previous collections of poetry – Etymology, A History of Glass and most recently Native Bird. He is also the author of a novella, Late Sonata, winner of the Seizure Viva La Novella prize; a collection of short fiction, Ephraim's Eyes; and two scholarly books: Poetry and Mindfulness: Interruption to a Journey, and Resistance to Science in Contemporary American Poetry. His work has appeared in New Zealand, Australia, the UK, the US and Canada, and has been recognised by the Montreal International Poetry Award, the New Zealand International Poetry Competition and the James Wright Poetry Award (US). He is a professor in creative writing at Massey University, Auckland. More on Bryan can be found at bryanwalpert.com.
Listen here to recordings of two poems from the book at NZ Poetry Shelf: https://nzpoetryshelf.com/2021/07/07/poetry-shelf-celebrates-new-books-bryan-walpert-reads-from-brass-band-to-follow/