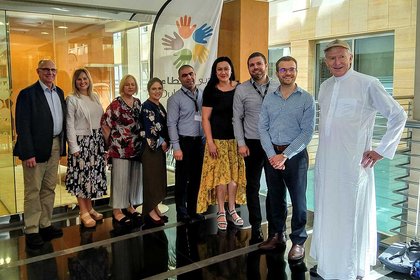 Last updated: Friday 26 August 2022
Master of Professional Pubic Relations students, along with tour leaders Dr Luk Swiatek and Dr Chris Galloway (far right), gained some valuable insights from the communications team at Dubai Cares, a philanthropic organisation focused on increasing access to education in developing countries.
One week, two countries, eight time zones, appointments with 21 organisations and discussions with 41 communication experts. The students in Massey University's Master of Professional Public Relations (MPPR) programme covered a lot of ground during their recent international study tour.
The cohort was given the unique opportunity to see how public relations practice and thinking differ across borders, thanks to the unique study tour embedded within the degree. The schedule focused on visits to a range of corporate, not-for-profit and government organisations in Abu Dhabi, Dubai and Singapore.
The group visited public relations agencies, including Baldwin Boyle Shand, Weber Shandwick and Hill+Knowlton; met with in-house communication managers from organisations like Dubai Cares, the Singapore Art Museum, and Ferrari World Abu Dhabi; spoke with the leaders of peak industry bodies, including the Middle East Public Relations Association and the Institute of Public Relations of Singapore; had lively discussions with academics from Zayed University and Singapore Management University; and engaged with representatives of statutory departments, including New Zealand Trade and Enterprise and Dubai Tourism.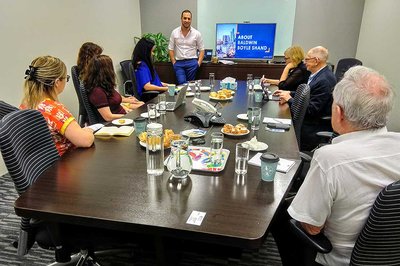 PR is a diverse, global industry
Director of the MPPR degree Dr Chris Galloway was delighted by the extensive engagement the tour provided with leading industry figures in both the United Arab Emirates and Singapore.
"The tour gave the students unparalleled opportunities to see diverse public relations and communication activities first-hand in two very different parts of the world," he said. "We are enormously grateful to all of our hosts for their time, and for providing such a wealth of insights into state-of-the-art practice."
More details about the study tour are available at the dedicated site https://mpprtour.com/.