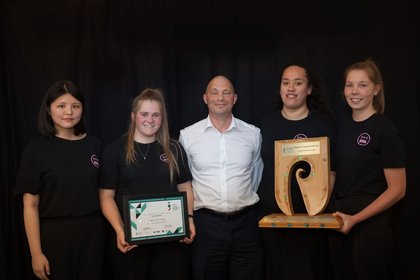 Last updated: Thursday 7 April 2022
Massey University dean enterprise Dr Gavin Clark presented the top award for the Lion Foundation Young Enterprise Scheme (Taranaki) to Taranaki Diocesan School's team called Girls of Steel at a regional awards night in New Plymouth on October 23.
Massey has become the key partner of the Taranaki region branch of the scheme, which encourages school pupils to consider entrepreneurial careers in business.
This year, 39 teams of year -11, -12 and -13 pupils participated in the scheme, with the top four teams pitching their business on finals night to a panel of judges that included Massey's business development manager in Taranaki, Eve Kawana-Brown.
Mr Clark was impressed with all four, but says Girls of Steel, a business that creates Period Starter Packs designed for young girls, by girls, addressing the issue of period poverty, was a worthy winner.
Among other prizes, the winning team received Massey Business School scholarships of $1000, which are awarded annually to all members of winning regional teams across New Zealand. The Taranaki competition last year was won by Tenneile Crump-Conchie, who is currently finishing her first year of studies at the Manawatū campus and has plans to progress and diversify her Young Enterprise pet food business once she has finished her studies.
Girls of Steel now head to the national final in Wellington in December to vie for the title of The Lion Foundation Young Enterprise Scheme Company of the Year. Twenty-one regional champions from across New Zealand will compete at the final where more than $23,000 in prizes will be awarded.
Supporting the Young Enterprise Scheme within Taranaki is one of several ways that Massey is partnering with the region to support innovation and enterprise in Taranaki. Ms Kawana-Brown says. "Growing enterprising and innovative students within Taranaki has perhaps never been more important for the region, which has recently co-designed a Taranaki 2050 Roadmap to respond to carbon zero imperatives.
"In addition to working with innovating companies in the region, Massey is also working with Venture Taranaki on a project aimed at stimulating and supporting more diversified Food & Fibre value chains to be developed within the region."
Additional support for agri-innovation in the region is being provided by a joint research award funded by Massey and the Bashford-Nicholls Trust (managed by the Bishop's Action Foundation), which aims to encourage innovation from the Taranaki agricultural sector.
Applications closed earlier this month for the Pivot: Enabling Innovation in Agriculture – The Bashford-Nicholls - Massey University Premier Research Award. The maximum value of the award is $100,000 per annum. The award supports collaboration between Massey researchers and Taranaki and a winner is due to be announced in late November.