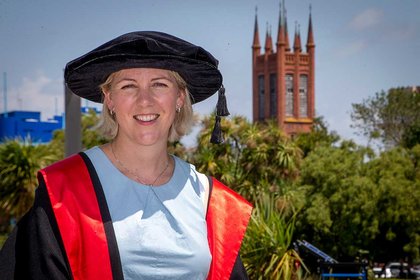 Last updated: Wednesday 6 April 2022
When Dr Ellen Nelson left the New Zealand Army after a decade of service in 2013, she noticed she was not alone. Other women of similar rank and service time were leaving too. She thought it was an issue worth investigating.
Dr Nelson graduated with her doctorate from Massey University last week and, already, her findings are being discussed at a high level within the Army. After in-depth interviews with 20 ex-serving women officers who had left prior to 2019, her thesis concluded the organistion did not create good social wellbeing outcomes for those interviewed.
"The Chief of Army asked if he could read my thesis," she says. "I've had a personal message from him saying he really wants to do something about it, which is great.
"When I started my thesis it wasn't really a personal issue, but I now really want to do something with this data and help the Army to make things better for women."
Chief of Army Major General John Boswell says, "For some years we've been working to ensure the Army attracts more women and improves their experience. Our women must be able to be themselves and feel safe, included and respected.
"We are proud of Ellen and her academic achievements, and appreciative that we can use her research to feed into our next major wave of work to improve the environment for our women."
Dr Nelson's recommendations
Dr Nelson's thesis made a range of short, medium and long-term recommendations. These included broader representation of women in recruiting materials, safer channels for making complaints, a review of the masculine leadership approaches taught, introduction of a camouflage uniform designed to fit female figures and better integration back to physical activities following maternity leave.
"The Army started as an organisation of just men. In my opinion, while accommodations have been made since women have been allowed to join, my research suggests there is some way to go before women are always valued and welcomed," she says.
"That doesn't mean the women I interviewed were miserable all the time, both the women and I felt there were lots of great things about the Army. I really did love my time in the Army overall, and so did the other women.
"But, unfortunately, my research showed there were also a lot of challenges and negative experiences for the women interviewed in terms of not being valued, experiencing harassment and discrimination and not even having uniforms that fit properly."
A thesis born from personal experience
Dr Nelson says while some things could be easily improved, the main change needed to come in the area of culture. When she looks back at her own time as a serving officer, she can see her feminine leadership style was not always valued by some of her managers.
"One time I was told by my boss, 'You need to be a bit more stern with your soldiers.' When I asked, 'What do you mean, Sir?', the most tangible thing he could tell me was, 'Maybe just don't smile as much.'
Now I can laugh and think that's ridiculous but, when I was serving, I took that on board and felt bad about myself. I thought I had to tone myself down. I think the implication was a smiling, bubbly woman officer is potentially being inappropriate with her male soldiers."
Dr Nelson feels positive about the Army using her research to help make improvements for women.
"I would really love it if interviews were done with female Army officers in five years' time and the majority of the issues identified in my thesis just didn't come up."