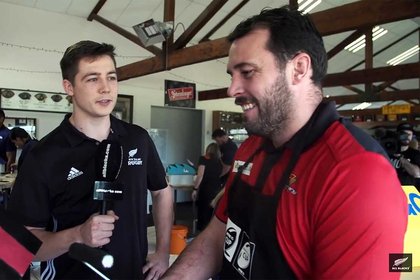 Next week, Massey University Bachelor of Sport and Exercise graduate Callum Smith will be the guest speaker at the Beehive in Wellington for the New Zealand Association of Cooperative Education (NZACE) Conference, which promotes Work-Integrated Learning. The conference, which is sponsored by Massey University, will be opened by Sport and Recreation Minister Grant Robertson.
Mr Smith is currently working for New Zealand Rugby as its digital content producer. During his final year at Massey he undertook work placement at the Manawatu Rugby Union as its match enhancement manager for the Manawatu Turbos.
"My experiences were challenging, yet rewarding and I accomplished tasks and pulled off events that I couldn't have imagined," he says. "The work environment was great and I received suggestions and help from a number of people.
"I developed my management skills through learning to effectively plan, organise, execute and control enhancement activities, and had the opportunity to develop a large range of contacts through networking with people from inside and outside the sports industry."
He has already gained extensive mega-event experience, first working on the Masters Games in Auckland in 2017 as a venues assistant, before being employed at New Zealand Rugby as the marketing and ticketing coordinator for the New Zealand Sevens. He also went to the Commonwealth Games on the Gold Coast in 2018 where he was a transport manager.
Professor Andy Martin, who coordinates Massey's Sport Event Management and Sport Practicum courses and is the conference manager and board member for NZACE, says, "Callum has developed quite a remarkable event management and marketing CV in a short space of time. He's a great example of where a Massey degree can take graduates and how the sport practicum provides a significant stepping stone to enhance graduate employability.
"The insights Callum will be able to share will highlight the importance of understanding how to add value through event design and planning, and marketing and communication. His new role also exemplifies the added value that graduates can bring to an organisation, particularly in the rapidly developing areas of digital communication, online marketing and social media," Professor Martin says.
Massey's new Sport Development major,within the revised Bachelor of Sport and Exercise, will help prepare students for work in the varied and growing area of sport development by providing knowledge in topics such as sport organisational structure and function, event and facility management and sport coaching, along with sociological, performance and business issues linked to sport.