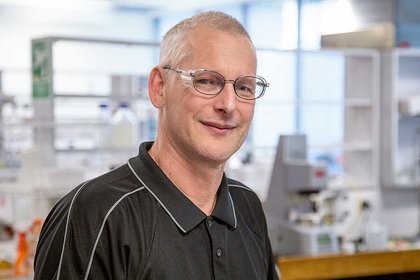 Last updated: Monday 21 March 2022
Massey University's School of Food and Advanced Technology is pleased to announce the appointment of Professor Skelte Anema as an Adjunct Professor.
Professor Anema is a world-renowned dairy scientist and technologist who became a Fellow of the Royal Society of New Zealand in 2016.
His field of expertise is based on fundamental and applied research into how milk proteins interact with one another and how, in turn, this affects the functional properties of milk.  
Dr Anema has been employed in the New Zealand Dairy industry since 1990, and is currently a Principal Research Scientist in the Fonterra Research and Development Centre in Palmerston North where he was awarded their highest research award in 2018, the Fonterra Distinguished Researcher Medal.
Professor Anema says it is a great honour and privilege to be awarded this adjunct Professorship from Massey University.
"This position will further the relationship I have with the School of Food and Advanced Technology and the Riddet Institute and provide a greater opportunity to collaborate with the talented scientists and students of the University."
This is not Professor Anema's first Massey connection having been an Affiliated Researcher at the Riddet Institute for many years now and he is a sought-after supervisor of graduate students at Massey University.
Head of School of Food and Advanced Technology Professor Julian Heyes says it's a privilege for him to welcome Dr Anema as an Adjunct Professor.
"Dairy Technology is a strength of our research and education programme and we are delighted to benefit further from Dr Anema's expertise.
"He has supervised many of our graduate students already and it is wonderful that we can recognise his expertise in this way."