Spatial and industrial design
Study
Research
Spatial design and industrial design use physical and virtual material processes to imagine new worlds, experiences, objects and products to affect human and environmental well-being.
Careers in spatial and industrial design
You'll help to define the world that future generations will come to experience. As an industrial designer you'll develop inspirational and elegant products, objects and systems such as smart phones, multi-sport hydration packs, bike pumps, perfume bottles or even a life support system for Mars. Industrial design students at Massey use traditional and digital processes to explore, communicate and make products that are user-centred and offer innovative solutions. Our award-winning graduates' careers include designing for Apple, Nike, Fisher & Paykel, Formway, Kathmandu, Navman and Weta.
Spatial designers shape the environment that we inhabit and the ways that we might experience them. Spatial Design students at Massey are challenged to question conventions and imagine spaces of the future - spaces that enrich our experience of the world. Our graduates find exciting jobs as spatial, interior, architectural, digital, performance, landscape, web, digital FX, interaction and experience designers, and new types of jobs are constantly emerging.
Meet our graduates
An industrial design graduate of 1989, Danny joined Apple Computers in 1993.

Over the next 20 years he was part of the elite team that changed the way the world communicated. Apple grew to be one of the most successful and prestigious design studios in the world, and Danny's contributions were recognised with many international awards.

Danny Coster
Industrial Design
Matt Holmes graduated with a Bachelor of Design from the Wellington Polytechnic School of Design in 1989. Like many top students he was then employed by Fisher & Paykel.

Moving to the USA, Matt has designed over 150 shoes for Nike. More recently, Matt has moved from creating some of Nike's most iconic and successful shoes to directing Creative Strategy for Nikes 100+ footwear designers.

Matt Holmes
Bachelor of Design (Industrial Design)
Nicole has been employed at Fisher and Paykel Appliances for the past year, and is in the process of commercialising her concept: 'Moray', a lamb docking iron which won gold at the Best Awards and was the New Zealand winner of the International James Dyson Award in 2017.

Nicole Austin
Bachelor of Design with Honours (Industrial Design)
Sir Richard Taylor is famed for his work alongside Peter Jackson in The Lord of the Rings trilogy. A multiple Oscar winner, Richard studied at the Wellington School of Design from 1982 to 1984, where he tended to 'alter the brief to suit his skills'.

Sir Richard Taylor
Honorary Professor, College of Creative Arts
Steph O'Shea took an Internship paper which led to a two-week trial with the Wellington City Council's Urban Design team. They were so impressed they offered her a part-time job throughout her 4th year, as well as a job at the end of her degree.

Steph says; "Studying Spatial Design has hugely developed my design thinking, and provided me with tools to explore design through many different processes."

Steph O'Shea
Bachelor of Design with Honours (Spatial Design)
Facilities
3D Workshop
Students can access a number of workshops on campus, alongside technical staff who will introduce them to the equipment and assist them if required. The 3D Workshop has specialty spaces to explore materials, prototyping and manufacturing processes. This includes wood, plastics, engineering, resins/ casting, welding, sanding and spray booths, CNC (water jet cutter, laser cutters, mill, routers) through to wood and metal working machinery and hand tools.
Fab Lab
Fab Lab Wgtn is Australasia's first digital fabrication laboratory (Fab Lab) affiliated to the Massachusetts Institute of Technology (MIT). Fab Lab's capabilities include: A computer-controlled laser cutter; numerically-controlled milling machine; a sign cutter; a precision milling machine to make three-dimensional moulds; surface-mount circuit boards; and small 3D printers, for fast production of 3-dimensional forms.
Fashion workrooms
Students have access to extensive workrooms that include plain sewers, overlockers, industrial presses, buttonholers, bar tackers, knit and leather machinery. The expansive studios have large tables for pattern-making and cutting, and computer labs for digital pattern-making using CAD software, pattern digitising and plotting. There is space for students to set up their own working stations as they prepare final collections or presentations.
Toystore
The Toystore offers a wide range of audiovisual equipment for design students to borrow, as well as access to large format printing and technical support.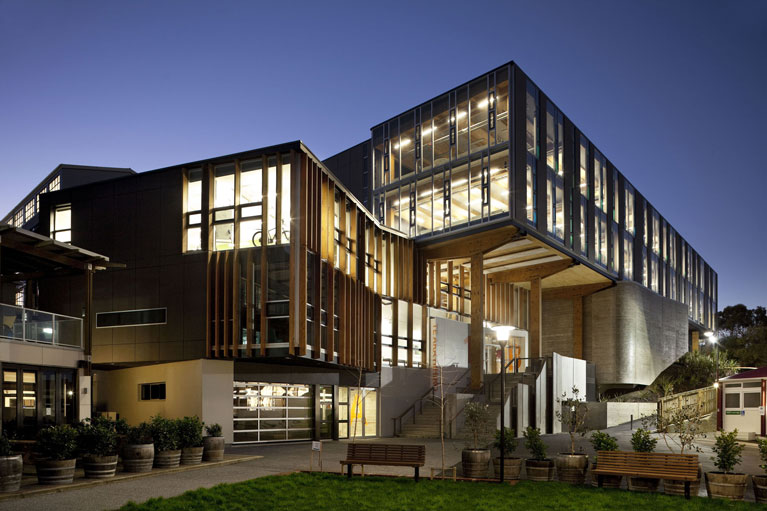 Departments and staff
Find out more about the departments and staff involved in spatial and industrial design at Massey.
You may also be interested in