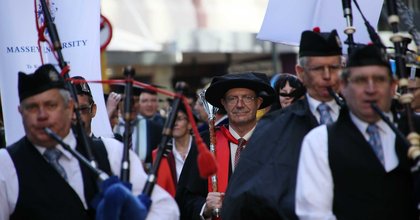 COVID-19 Protection Framework requirements (traffic light system)
All graduation and related events with over 200 people in attendance can only be held if the region is at Green or Orange. All graduands, whānau, friends and staff attending the ceremony and celebrations will need to adhere to the university's COVID-19 Vaccination Policy.
Please note, this policy may change prior to your ceremony. We will communicate any relevant changes to you before the event.
Wellington graduation ceremonies have been postponed
With COVID-19 circulating widely in the community and restrictions in place for events at Red, Massey has decided to postpone the Wellington Graduation ceremonies until later this year – October at this stage.
We know this will be disappointing for our graduating students as they have worked hard to achieve this milestone. We have made this decision with everyone's health, safety and wellbeing in mind, as well as adhering to gathering restrictions during COVID-19.
To ensure students officially graduate and because of the uncertainty the pandemic has caused over the past two years, qualification will be conferred by Massey University's Chancellor on 12 April. This means students will officially graduate in April and have their certificates couriered to them. They will also be sent a certified digital version and academic record via My eQuals.
Students graduating in Wellington should:
Check their postal address is current in their student portal. If it's not, it will need to be updated by 12 April. We will endeavour to have these posted by 29 April and will avoid delivery over the Easter/Anzac holiday period as people could be away.
Students or a household member will need to sign for this delivery.
Ceremonies later this year at the Michael Fowler Centre
The ceremonies later in the year will be an opportunity for students to hire and dress in regalia and walk across the stage to celebrate with their whānau and friends. We know celebrating and capturing the moment of graduating is a highlight, which is why we are committed to holding ceremonies later in the year, if restrictions allow. We will text students when we have sent an invite to their portal. This invitation will include details of the ceremony to celebrate their achievement. Students will need to respond to the invitation to secure a place at the ceremony.
Ceremony schedule
Graduation Ceremonies at the Michael Fowler Centre
11 October 2022: 9.30am
11 October 2022: 2.30pm

PACE
College of Heath
College of Humanities and Social Sciences
College of Science
Massey Business School.
Pacific celebration
11 October 2022: 6.00pm
Tea Gardens, Museum Building
Wellington Campus
Māori celebration
12 October 2022: 10:00am
Te Rau Karamu Marae
Wellington Campus
Academic Regalia
If a regalia order has been placed with Academic Dress Hire, this will be transferred to the October graduation in Wellington.
Those that are not able to attend the October graduation can have the regalia sent to them for a family celebration or photographs, or a refund can be granted. Please contact Ainsley at Academic Dress Hire through info@masseygowns.org.nz for either of these options.
Students that have not yet ordered regalia and plan to attend the October graduation, please place a regalia order on www.masseygowns.org.nz before 9 September 2022.
Wellington graduation ceremonies
Email