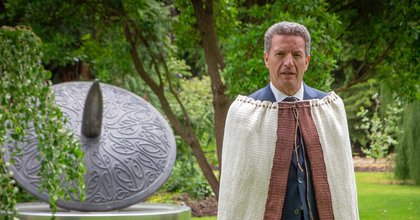 Tohua he reo hei panui i tenei
,
Choose a language to read this in
E 33 tau i muri i tana tau ki Te Kunenga ki Pūrehuroa hei tauira, me āna rawa katoa ka whakatueketia ki tana Vauxhall Chevette kahurangi, i auraki a Michael Ahie ki te whare wānanga hei Tumuaki Tuarua.
I kopoua te kaipakihi nō Te Whanganui a Tara ki te counihera whare wānanga e te Minister of Tertiary Education i te Tīhema o te tau 2012, ā, kua noho ia hei Tumuaki Tuarua mai i te tau 2013. He ihu puta a Ahie nō Te Kunenga ki Pūrehuroa, i whakapōtaetia ki tētahi tohu paetahi mahi pakihi, ā, i riro i a ia te tohu kairangi i ngā mahi mākete.
I tipu a Ahie i te taone takutai o Opunake i Taranaki, i reira i tapatahi ngā whakaaro o ōna mātua me ōna kaumātua ki te mātauranga.
"I rite tonu te kī mai a taku koroua mā te mātauranga e huri ai te ao o te tangata, ā, kua pērātia tōku."
Pēnei i te tokoiti o ana hoa kura i haere ia ki te whare wānanga i muri i te kura, i konei i tipu tōna ngākau whiwhita ki te mahi pakihi, i tūtaki hoki ia ki tētahi atu tauira ki a Janine, nāwai ka mārena rāua. Tokorua ā rāua tama.
I muri i ngā tau 18 i te ao kaporeihana, pēnei i ngā tūranga matua i Toyota NZ, me te New Zealand Dairy Board and Wrightson Ltd i whakaaro a Ahie kia tahuri ki ara kē atu. I waihanga ia i tētahi pakihi ko AltusQ New Zealand, e aro ana ki te whakaako me te ārahi i ngā tāngata kei rō whakahaeretanga. Ko ia hoki te hea o te poari o Plant and Food Research, te Food Safety Assurance Advisory Council, te ComplyWith NZ Ltd me te Plant Market Access Council.
E hīkaka ana a Ahie i te mana whakapanoni kei roto i te mātauranga.
"Ko Te Kunenga ki Pūrehuroa ka taea te whakaako i ngā tauira, ka mātua ngā mea noho tawhiti, kei ngā kokona katoa o te motu, ā, he mea nui tēnei mō ngā hapori Māori."
33 years after he first arrived at Massey as a fresh-faced student, with everything he owned packed into his blue Vauxhall Chevette, Michael Ahie returned as the university's Pro Chancellor.
The Wellington-based businessman was appointed to the university council by the Minister of Tertiary Education in December 2012, and has been Pro Chancellor (deputy chairman) since December 2013. Mr Ahie is a Massey alumni, who graduated with a Bachelor of Business Studies with First Class Honours in Marketing.
Mr Ahie grew up in the coastal town of Ōpunake in Taranaki, where his parents and grandparents were insistent about the importance of education.
"My grandfather always told me education changes lives, and it has changed mine."
Unlike most of his school friends he went to university after school, where he found a passion for business and met a fellow student, Janine, who became his wife. They now have two sons.
After 18 years in corporate life, including senior roles at Toyota New Zealand, the New Zealand Dairy Board and Wrightson Ltd Mr Ahie decided to change direction. He founded a company, AltusQ New Zealand, dedicated to coaching and mentoring people in organisations. He also chairs the Plant and Food Research board of directors, the Food Safety Assurance Advisory Council, ComplyWith NZ Ltd and the Plant Market Access Council.
Mr Ahie is excited by the transforming power of education.
"Massey is positioned to deliver to students especially through its distance learning programmes which can reach people in every corner of the country and this is particularly important for Māori communities."