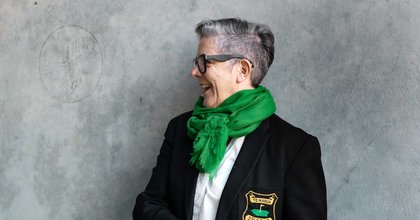 Tohua he reo hei panui i tenei
,
Choose a language to read this in
I a ia e mahi ana hei ringa toi, hei kaitiaki toi, hei kairangahau, hei kaitiaki taiao rānei e whakapono ana a Ahorangi Huhana Smith he mahi tāna ki tēnei ao: ko te whakamahi i te kaha o te tangata me te toi kia tutuki ai ngā mahi.
I kopoua ia hei Upoko i te Whiti o Rehua - School of Art i te tau 2016 ki te, e ai ki a ia, "mahi tahi ki ētahi tāngata ka whakatutuki i ētahi mahi rawe", i tae tuatahi mai a Ahorangi Smith ki te whare wānanga hei tauira tawhiti i te tau 1994. I te tau 1995, ko ia tētahi o ngā tauira tuatahi ki te whai i te tohu toi - Bachelor of Māori Visual Arts (BMVA) ki Te Papa-i-oea – he rongo hokitanga ki te kāinga mōna, he tini ngā āhuatanga i pērā ai. He hokitanga ki te whenua i mahue mai i tōna māmā mō Ahitereiria i te tau 1956, me te tūtaki ki te tirohanga Māori, ka mārama ia i noho muna i āna mahi toi me tōna ngākau whiwhita:
"I mua i taku tae mai ki Aotearoa, i te waihanga mahi toi ahau i tipu i te mātāpono Māori – ā, kāore ahau i paku mōhio. Ko te BVMA i tīni i taku tirohanga, kia tirohanga Māori ai, i whakaatu mai me pēhea te whakahoropaki, me te whakahuatau i te ahurea toi Māori, me tōna takenga mai i te taiao. Ko te tūrangawaewae ki te Māori he hononga tata ki te taiao māori, ā, ko ahau tērā. He tangata taiao ahau – koirā te ngako o āku mahi!"
I hoki mai a Ahorangi Smith ki tana tūrangawaewae, ki Horowhenua-Kāpiti, i te tau 1997, tata ki te tekau tau i muri i tāna whakaoti i tana tohu. I te tau 2009, i wehe ia i tana tūranga hei Kaitiaki Toi Māori Matua i Te Papa ki te rangahau i ngā pānga kino ki te whenua. I konei i whakarite ia i tētahi huinga kaupapa hei whakakotahi i ngā mōhiotanga o ngā pūkenga me ngā tāngata whenua. Ko ngā kaupapa ka whakahaerehia e Ahorangi Smith i Te Kunenga ki Pūrehuroa ka kimi huarahi auaha ki te whakamōhio ki te iwi ngā pānga kino o ngā mahi pāmu arumoni ki te taiao. Ka whai wāhi mai ko te tirotiro ara-wai mō ngā tukumate me ngā kīrearea, ko te whakatū whakakitenga toi i ngā hēti pāmu wātea, ko te hīkoi hoki ki te whenua.
"Kua whakaako mai ki a au me pēhea te whakarite i taku oranga me aku mahi. Ko te whakawhanaungatanga me te mahi ngātahi – heoi ka mātua hoki ko te whai whakaaro ki ngā pūkenga o te whenua, ko te māramatanga hōhonu ki tētahi wāhi. He nui rawa atu te mātauranga ka puta i te whenua – ko tāku he ako ki te whakakotahi me te tohu kia tutuki ai ngā mahi."
Ehara tēnei mahi i te mahi peita me te waihanga pakoko rānei pēnei i tā Ahorangi Smith e taunga ai, heoi ko te whai whakaaro ki tētahi pūkenga toi motuhake, te pohewa i tētahi ao pai ake.
He wā tōna i peita ahau mō ngā mea nei. Heoi i roa rawa tērā! Te peita i tētahi terenga mahi toi me te kī atu ki ētahi i aku whakaaro. Me whai ringa toi tātau, ki te whakakotahi i ēnei āhuatanga matarau kia mārama ai. Ka āhei ngā ringa toi ki te whakaaro ki tua atu i te māori noa – kia kitea ai he pito mata kē atu, ā, he ara kē atu hei whakamau. Ko ngā tāngata whaihanga ka waihanga me te tiaki whakaaro. Nō reira ka pēhea te kukume i ērā whakaaro, kia whakakikokikotia ai?
Whether she's working as an artist or curator, researcher or environmentalist, Professor Huhana Smith believes she's got a job on the planet: to harness the power of people and art to get things done.
Appointed Head of Massey's Whiti o Rehua School of Art in 2016 to, in her words, "work with a bunch of people to make cool stuff happen", Professor Smith first came to the university as a distance student in 1994.
In 1995, she was in the first cohort of students to take the Bachelor of Māori Visual Arts (BMVA) programme in Palmerston North – which felt like a homecoming, in more than one sense. It was a return to a country her mother had left for Australia in 1956, and a meeting with a Māori worldview that, she came to see, had always been quietly present in her art and the passions that inspired it:
"Before I got to New Zealand, I was producing artworks that were all premised on a Māori philosophy – and I didn't even know it. As the BVMA recalibrated our brains to an indigenous worldview, it allowed us to see how Māori visual culture could be contextualised and conceptualised, and how it came from our natural environment. Tūrangawaewae ["a place to stand"] for Māori is a close relationship with the natural environment, and that was me! I was very green, very environmentally-oriented – that was what my work was all about!"
Professor Smith returned to her tūrangawaewae, Horowhenua-Kāpiti, in 1997, over a decade after she first finished her first art degree. In 2009, she left her role as Senior Curator Māori at Te Papa to research environmental damage to the whenua. Here, she set up a group of projects to bring the expertise of scholars and professionals together with the deep local knowledge of tangata whenua.
The projects, which Professor Smith now runs from Massey, find imaginative ways to awaken people to the harm that commercial farming has caused to nature. They include everything from testing waterways for pathogens and pests, to staging exhibitions in disused dairy sheds, and taking hīkoi, or walking, talking hui, on the land.
"It's really taught me how to run my life and my work. It's about whakawhanaungatanga [building relationships] and working collectively – but just as importantly, acknowledging and using the pukengatanga [knowledge] of whenua, that deep understanding of place. There's so much knowledge that just radiates out of the ground – and what I do is work out how to bring it all together and direct it into getting action done."
This work might not be painting or building sculpture installations, like Professor Smith used to, but it nonetheless relies on a special artistic ability – to imagine the world as if it were better.
"I used to do paintings about all of this stuff. But that was going to take me too long! To do a whole series of paintings and tell people what I was thinking. We need artists, though, to keep all this complexity together and understood. An artist has a capacity and a facility to think outside norms – to see that there are other kinds of potential and other ways of harnessing it.

As creative people we're constantly creating, projecting ideas. So how do you pull down some of those ideas, to make them a tangible reality?"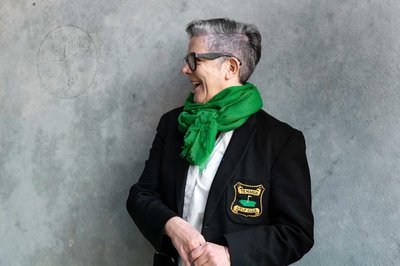 Professor Huhana Smith
Ngāti Tukorehe, Ngāti Raukawa ki te Tonga
PhD, DipMusStud, BVMA
Head of School of Art, Whiti o Rehua School of Art, College of Creative Arts, Wellington