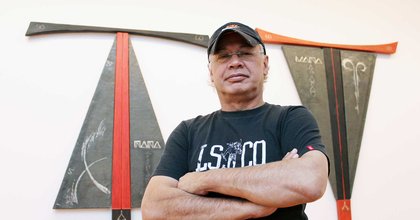 Tohua he reo hei panui i tenei
,
Choose a language to read this in
I tae mai a Ahorangi Robert Jahnke ki Te Kunenga ki Pūrehuroa i te tau 1991 me tana whāinga: kia waihanga i te tohu paetahi toi Māori tuatahi. He pūkenga kua ako ki te tuhi, te hoahoa me te waihanga kiriataata, i mōhio a Ahorangi Jahnke e whanake ai te kaupapa me noho ki te tūāpapa ko te whakaaro Māori – me te whakakī i tētahi āputa e whakaakona ai te hītori toi:
"I a au e ako ana i te Elam School of Fine Arts i California, i ako ahau mō ngā kaitoi katoa o te ao – hāunga ngā mea Māori. Kāore tētahi pepa i aro ki ngā kaitoi Māori, ngā mea onamata, ngā mea inamata hoki. I whea tā rātau koha ki te toi me ngā mātauranga?"
I whakarewaina a Toioho ki Āpiti i te tau 1995, ā, i para i te huarahi mō te tohu paetahi toi. Ko ngā tohu paerua, tohu kairangi hoki i whai i ngā tau ō muri. I ia tau ka ako ngā tauira i te reo Māori, te ahurea toi Māori me Te Tiriti o Waitangi, ā, ka waihanga mahi e tūhono ana ki te tāhū matua – te mana whakapapa i te tau tuatahi ki te mana tangata i te tau tuawhā. Ko te akoranga ka tuku i ngā tauira ki tētahi tūāoma e ako ai rātau mō rātau anō, e whakakīia ai i ō rātau kete mātauranga, e whakakoitia ai hoki tā rātau titiro:
"He karenga tōrangapū, ohotata hoki ki te whakatipu ringa toi, kaiwhai whakaaro, pūkenga mātauranga hoki e aro ana ki konei [Aotearoa] tērā i te toenga o te ao. Me mārama ki a mātau ko wai mātau, kei whea mātau, me ā mātau mahi i konei, i tēnei wā, i tēnei wāhi hoki."
Ka akiaki a Ahorangi Jahnke i ana tauira kia waihanga tonu i runga i ō rātau mōhiotanga ka ākona i tēnei akoranga ki te whakaputa mahi kāore e here ana i ngā whakaaro ki tēnei mea te toi taketake e mōhiotia ana. Ka hāngai tēnei ki tāna whai i āna mahi toi, ka whakauruurua ko ngā toirau, me ngā tāera hei tirotiro i te whakaaro, te hītori me te tōrangapū Māori. Ko tētahi tinana hipi mate e korowaitia ana ka kōrero mō ngā pānga kino ki te Māori i ngā tau whakamutunga o te 1980, i te wā i kati ai te whare patu mīti i Te Matau a Māui. Ko ngā ngongo haukura, kua apokia ki ngā tauira pūrite, ka whakakōrero i te kunenga o te kore me te pō. Ko ngā pakoko rama ka whakapapatia ki raro, taiāwhio hoki i ngā rotarota nā ngā kaituhi taketake, mō te takakino ki te ao māori.
"Ko Ngāi Māori kāore e kite i ngā tauira Māori i aku mahi i ngā wā katoa. Heoi ko te kaupapa e hāngai ana ki a tātau i ngā wā katoa. Ā, koirā tētahi akoranga ki aku tauira: Kaua e warea ki te āhua Māori kore o āu mahi – ka taea te whakatakoto tūāpapa Māori. Ā, i ētahi wā ka nui atu te kōrero mā te kawe ki tua i ngā here taketake."
Ko ngā taunakitanga nui mō te angitū o ngā kaupapa kua whakatūria e ia, e ai ki a ia, ko te tipu o ngā ihu puta ka piki i āna tohutohu.
He nui aku ihu puta kei te whakatipu ingoa mō rātau anō mā te whakamahi toi tūturu, toi whakawhiti hoki. He tino ngahau! Kei te tiki rātau i ngā mātauranga e ako nei rātau i ngā akoranga me te tūhono ki ngā toi tūturu mā te whakamahi pouara GNG, tā ahutoru me te raweke muka tini. Nō reira kei konei ahau, e mātaki ana, e whakaaro ana kei te tika pea aku mahi.
Professor Robert Jahnke was brought to Massey in 1991 with a mission: to create the country's first undergraduate degree in Māori visual arts.
An academic and an artist trained in illustration, design and experimental animation, Professor Jahnke knew that to be transformative the programme had to be grounded in Māori ways of thinking – and to fill an obvious gap in how art history was taught:
"As a student at the Elam School of Fine Arts and in California, I'd learned about every artist in the world — except for those who were Māori. Not a single paper focused on Māori artists, past or contemporary. Where was their contribution to art and knowledge?"
Toioho ki Āpiti was launched in 1995, and set the pathway for later Bachelor of Māori Visual Arts degrees. Master's and PhD programmes followed a few years later. Each year, undergraduates study te reo Māori, Māori visual culture and Te Tiriti o Waitangi, and create work that engages with a hefty central theme – from mana whakapapa (genealogical legacy) in the first year, to mana tangata (human empowerment) in the fourth. The programme sends students on a journey of self-discovery, building their knowledge and sharpening their perception:
"There's a political undercurrent, and an urgency to make sure that we're creating artists, theorists and academics whose whole focus is here [Aotearoa] rather than on the rest of the world. We need to understand who we are, where we are and what we need to do here, now, and in this place."
Professor Jahnke encourages his students to build on the understanding they gain on the programme to create work that isn't limited by expectations about what indigenous art should look like. This chimes with his own signature approach to his art, which uses an eclectic mix of media and techniques to explore Māori thought, history, and politics.
A sculpted lead-cloaked sheep carcass comments on the damage done to Māori in the late 1980s, when Hawkes Bay's freezing works closed. Neon tubes, stacked in concentric patterns, conjure the creation-narrative of reality emerging out of te kore and pō, the void and the darkness. Light sculptures are layered under and around poems, by indigenous writers, on the destruction of the natural world.
"Māori can't always see the Māori elements in my work. But the kaupapa is always about us. And that's something I say to my students: Don't worry that your work doesn't look Māori – you can ground it within a Māori kaupapa. And sometimes, you can say more by taking it beyond the restraints of tradition."
Perhaps the best evidence of the success of the programmes he has created, he believes, is the growing number of graduates who ignore this advice.
"A lot of my graduates are now creating names for themselves by using toi tūturu and toi whakawhiti, or what I call "customary" and "trans-customary" forms. It's very interesting! They're taking the conceptual knowledge they gain on the programmes and reengaging with customary forms, using GNG routers, 3D printing, and even manipulating fibre in its myriad forms. So here I am, watching, thinking I must be doing something right."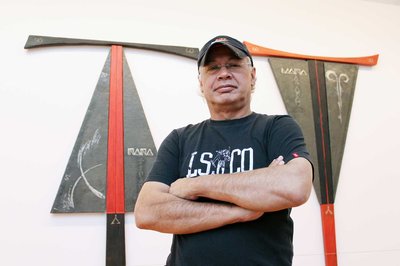 Professor Robert Jahnke
Ngāi Taharora, Te Whānau a Iritekura, and Te Whānau a Rakairo o Ngāti Porou
Professor of Māori Visual Arts, Whiti o Rehua School of Art, College of Creative Arts