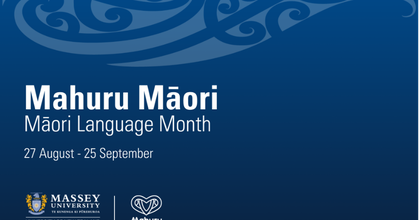 Nau mai ki Mahuru Māori!
Tirohia tōna pūtake me tō whai wāhi atu.
Mahuru Māori, Māori language month, runs from 27 August – 25 September 2022 in line with the maramataka Māori or Māori calendar. We'd like to encourage you to take up the wero or challenge to use as much te reo Māori as you can during the month of Mahuru.
Over the next four weeks, we will be sharing rauemi or resources with our staff internally and externally on our Māori@Massey Facebook page.
This includes whakatauākī or proverbs, kīwaha or colloquialisms and kupu or words each week based on the themes Maunga, Awa, Waka and Whare. No matter what your level of skills or experience, everyone can participate in Mahuru Māori.
This year, Te Wiki o te Reo Māori, Māori Language Week will be celebrated from 13 September – 19 September 2022. We will keep you updated!