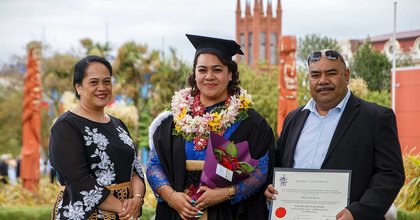 Pacific graduation celebrations
We have a long tradition of honouring the success of Pacific graduates with special Pacific celebrations. These are informal events which are separate to the graduation ceremonies.
Auckland
Date
Friday 28 May, 2021
Time
6.30pm
Venue
North Harbour Stadium
Stadium Drive
Albany
Auckland
Palmerston North (Manawatū)
Date
Tuesday 4 May, 2021
Time
6.30pm
Venue
Crossroads Church
220 Church Street
Palmerston North
Wellington
Date
Tuesday 20 April, 2021
Time
6.30pm
Venue
Tea Gardens
Dominion Museum Building 10C
Massey University
15 Buckle Street
Mount Cook
Wellington
How to register to attend a celebration
In order to graduate at an official graduation ceremony you need to apply to graduate. When you apply you can also register to attend a celebration to honour Pacific graduates.
There is no cost to attend the celebration – you are our honoured guests.
If you have Pasifika as well as Māori ancestry, you are welcome to attend both the Pacific @ Massey and Māori @ Massey celebrations if you wish. Please ensure you register for both events when you apply to graduate.
About the celebration
You are welcome to bring up to 10 guests with you to the celebrations. Children are welcome – it is inspiring for our children to see the success of their family.
At our celebrations, graduates are given the opportunity to have a short message read out as they walk across the stage. This message of thanks is your opportunity to acknowledge those who have helped you along the way. As your message is being read out, we encourage your families and friends to take this opportunity to gift you with ula lole (lolly leis) and kahoa lole.
Your graduation certificate will be presented to you at your graduation ceremony. At this celebration you will receive a special certificate from the Pacific Student Success, Office of the Provost.
You do you not have to graduate at the Massey campus where you studied – you can choose to attend a graduation celebration at the Massey location that suits you best.
What to wear
Graduates will be required to wear academic dress and the hood of your discipline. These are available for hire.
On the night of the celebration, graduates are able to give us their gowns, hoods and trenchers to us and we will return it on their behalf.
For more information about what to wear and hiring academic dress see the Academic Dress Hire website.
Orientation
Before the start of Semester One and Semester Two each year, Massey University runs orientation programmes on each campus. These include a Pacific orientation, which is a great opportunity to meet other Pacific students and find out what's happening, what support is available and who you can talk to.
There will also be community orientation events in Northland, Auckland, Napier and Wellington to connect with Massey distance students around orientation time.
Find out more about orientation at Massey University on the orientation page.
Orientation at Massey University
You can also contact the Pacific Learning Advisors to find out more information about the Pacific Orientation Programme.
Pacific language weeks
Pacific languages, cultures and identity are essential to the health, wellbeing and lifetime success of Pacific peoples and their communities in Aotearoa.
Nine Pacific languages are celebrated each year in Aotearoa. Find out when they are and how to participate.
Pacific @ Massey Research Conference
Theme
Wellbeing, Creativity and Resilience: Transforming Pacific Outcomes.
Dates
Wednesday 20 to Friday 22 October 2021.
Venue
Atrium Building
East Precinct
Massey University
Auckland campus
Albany
Auckland
Overview
This is the tenth Pacific conference and its aim is to foster and promote Pacific research by Massey University's students and staff and to develop Pacific researchers across the University. Marking the importance of research and addressing various challenges in the Pacific, this forum provides an opportunity for staff and postgraduate students to present research on various topics related to the Pacific region and the diaspora.
View more details about the Pacific @ Massey Resarch Conference
Pacific @ Massey events
The Pacific Student Success team regularly organises events, forums, celebrations and more, designed to connect, support and celebrate our Pacific students, our cultures and achievements. To keep up to date with what's happening on your campus, join the Pacific @ Massey Facebook page.