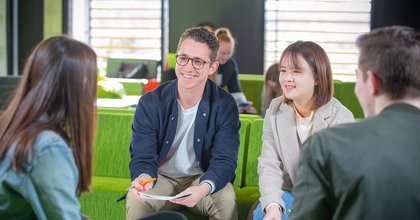 We aim to involve you in decisions at Massey that will impact you as student members of our community.
Hearing your unique perspectives, views and values means we can respond with decisions that benefit you and other students.
We hope this also helps you to feel invested in your own learning as your preferences and interests are heard and acted on.
How you can participate
We have a number of ways you can bring a student voice to decisions around how Massey works. We're constantly looking for ways to improve representation of students' views in decisions that affect you.
Examples of how you can share your student voice include:
Take opportunities to share your views through consultation tools like the annual student experience survey, questionnaires, focus groups and suggestion boxes.
Contribute your ideas and experiences as part of your teaching and learning, such as through your class Stream site.
Having structures in place by involving students in planning, reviewing and implementing policies and procedures, such as consulting with you on the proposed new harmful sexual behaviours policy. Or sharing your feedback on how you would like to see the compulsory student services levy allocated
Consider becoming a peer mentor such as a Massey Guide or Accommodation Residential Assistant and developing your leadership capability.
Massey Guide on MyHub (requires login)
Take part in groups like university committees, the university council or your students association, and make sure they represent you.
Contact your students association and let them know how you would like to get involved. They're here to give you a helping hand and make sure your student voice is heard.
The students association gives you a helping hand and ensure your voice is heard.