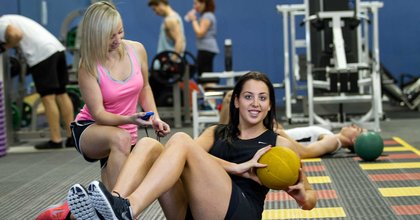 Personal trainers
Our personal trainers at the Massey Auckland Recreation Centre offer a full range of personal training and team options.
Massey personal trainers can help with:
personal health and fitness goals of any level
preparing for a sports event
improving flexibility
weight loss
developing speed or other goals
simply feeling good again.
For more information, to register with a personal trainer and prices, visit reception or contact us.
Personal fitness programmes
Personal fitness programmes are included in Auckland Recreation Centre membership prices. These programmes are a great way to achieve your fitness goals using the expert advice of Massey's qualified health and fitness instructors.
Fitness instructors will design a personalised fitness programme that is exciting, challenging, fun, and designed specifically for your fitness level and goals.
Getting a fitness programme
To get your free fitness programme at the Auckland Recreation Centre, book a free fitness appraisal with an instructor.
Make your appointment at reception – book early to avoid disappointment.
Fitness instructors are available throughout the day and in the evenings, seven days a week.
Each appointment is one hour in length, unless otherwise specified.
Always come to your appointment ready to be active, wearing exercise clothing, sports shoes and bring a sweat towel and drink bottle.
Appointments will be rebooked if you are more than 10 minutes late for your appointment.
All Massey University Auckland Recreation Centre fitness instructors are REP registered.
Contact us
Phone: +64 9 414 0800
Email: recreation.auckland@massey.co.nz