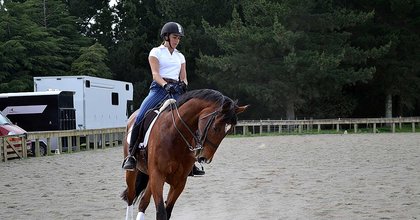 If you have a horse grazing at the Equestrian Centre, your grazing fees include use of the Equestrian Arena and jump set.
If you don't have a horse grazing with us, you need to buy an arena pass or pay each time you use the arena.
Everyone needs to book the arena in advance. And when you're at the arena, please follow the rules to keep people and horses safe and secure.
What the Equestrian Arena offers
The arena is 60 by 80 metres in size and has an all-weather surface. You can use the arena for both flat and jump schooling.
The surface of the Equestrian Arena is an equal mixture of lime and crusher dust.
When you book the arena, you can use our equipment. We have a full set of jumps, including:
Wood Shield jump poles
an adjustable wall
several fillers. 
What you can do in the Equestrian Arena
Most riders use the Equestrian Arena for jump and flat school. We leave one end clear of jumps so you can do flat work.
The arena is a good place to host coaching clinics with specialist coaches in different equestrian disciplines. You need to arrange and pay for any coaching yourself, although we'll help you organise it. Examples of recent coaching clinics include jumping lessons with showjumpers Jill Ullrich, Lucy Olphert and Olympian Sally Clark.
Costs
If you don't have a horse grazing at the Equestrian Centre, you must pay to use the arena. You can pay each time, which is called 'casual entry'. Or you can buy an arena pass online.
You can buy an Equestrian Arena pass for different periods of time. With a pass, you can use the arena as much as you like during the validity of the pass.
Table showing costs for an equestrian arena pass

| Fees in 2021 | Cost NZD$ |
| --- | --- |
| Casual entry | $10 |
| 4-month pass | $125 |
| 8-month pass | $225 |
| 12-month pass | $315 |
Fees include GST and may change each year. You can pay by credit card online.
You can pay the casual entry fee in cash at the arena but we prefer credit card in advance.
Booking the Equestrian Arena
The arena is open all year and is big enough to hold several horses and people at the same time. The arena is popular so you need to book a time before you turn up. This is so you won't arrive and find the arena is full.
You need a gate code to enter the arena. Before you arrive, text us for a code on +64 21 242 9020
It's free to book a spot in the Equestrian Arena. You can check the calendar in our online booking form to see when the arena has space. To get the time and day you want, it's wise to book as far in advance as you can.
And when you're using the arena, please follow the rules to make sure everyone and every horse is safe and secure.
Equestrian Centre contact details
Equestrian Centre
Phone

Location

Massey University Equestrian Centre
40 Albany Drive
Palmerston North 4442
New Zealand