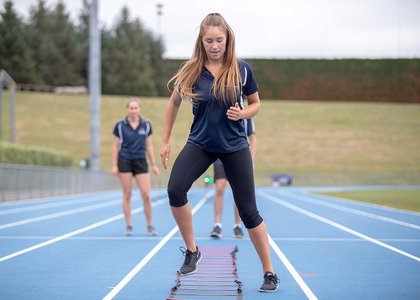 On this page
At Massey Sport and Recreation Centre we're committed to providing our students, staff and the wider community with the finest sport and leisure facilities. You can book our facilities for one-off and ongoing use, or reserve them a week in advance if you are a member.
Make a booking
Venue hire and events
Our Recreation Centre is suitable for hosting a variety of cultural and social events, including end of season prize-givings and one-off activities by clubs. We welcome bookings from non-members to hire these facilities.
We prefer you submit your booking request more than eight weeks before you want to hold your event or start your use of a facility.
For rates and a no obligation quote, email recbookings@massey.ac.nz
Fill out a form online to book a venue
Terms and Conditions for booking facilities
Club and society bookings for ongoing use
Members of MUSA Massey University Students Association-affiliated clubs can book a facility on an ongoing basis for activities such as practicing, meeting, and playing sports.
Bookings by MUSA-affiliated clubs or societies last until:
the final day of semester two each year
the last day before semester one starts (for summer bookings)
If your club or society has members who are not current Massey students they can use the booked facility free during allocated club or society times. To use the facilities at any other time they can purchase a membership
Contact our Wellbeing and Clubs Coordinator by email for help with your booking: e.rush@massey.ac.nz
Make an ongoing booking for your MUSA-affiliated club or society
Make a one-off booking to use a venue for a club activity
Make a casual booking as a member to reserve a facility
If you are a member of the Massey Sport and Recreation Centre, a casual user or 10-entry pass holder, you can reserve certain facilities up to seven days before you intend to use them.
Don't use a booking form to do this, call +64 6 350 5080
Reservations to use the courts may be limited to certain spaces or times. If you are more than 10 minutes late we may assign the space to someone else who is waiting.
Facility descriptions
Unless otherwise indicated, all of these facilities can be used and reserved by members, 10-entry pass holders and people who have purchased a casual entry pass.
Titles marked with an '*' can also be hired for events, activities or MUSA-affiliated club use.
Main Recreation Centre building
Fitness Centre gym
Our gym, called the Fitness Centre, has an open-plan layout filled with all the cardio and weight training equipment you need to work towards your training goals. This facility cannot be reserved.
Sports Hall*
The Sports Hall is an indoor court space. It is single basketball-court sized but can cater for two training courts. You can use the Hall for many court sports, and it is also suitable for hosting large events.
Activity Centre*
A multi-purpose indoor space used for group fitness such as LES MILLS™ group fitness classes, and recreational activities. Located at the back of the main Recreation Centre building. The Activity Centre is also suitable for hosting small events.
Activity Studio*
The Activity Studio is a classroom space with a hard floor. It can be used for meetings, lectures, dance practices, and small-group training sessions not requiring exercise equipment.
Dojo and Dance Studio*
This is a moderate-sized studio with a wooden floor. It can be used for martial arts, yoga, dance, fitness, and group activities.
RPM Room*
This dedicated spin class room contains 24 bikes. Six of the bikes can track:
power
distance
speed
calories burned
other metrics.
The room is mainly used for LES MILLS™ RPM classes but may be used by members at other times. It can also be booked for private sessions, with or without an instructor, or single-person use can be requested at reception.
Climbing wall
The climbing wall is only for people who have been approved by the Massey University Alpine Club or Climbing Club to use it. The climbing wall is not available for casual use or bookings.
Squash courts*
The Recreation Centre has three full-size squash courts with glassed back walls, allowing plenty of light and viewing opportunities.
Standalone facilities
Teaching Gym*
The Teaching Gym is in a detached building and is single basketball-court sized but can cater for two training courts as it has ample hoops. It is primarily used by Massey University teaching staff for classes and training but can also be used if the Sports Hall is unavailable.
Athletics track and facility*
We have an eight-lane all-weather track built to International Amateur Athletic Federation (IAAF) standards. Other features of the precinct include:
throwing circles
jump runway and pits
pole vault
high jump areas
steeplechase water jump
centre field
practice throwing area.
The track is available to the public and is free to use but be aware that it may be booked and in use by other groups and clubs.
Find out more about booking the Manawatū community athletics track
Outdoor courts*
Four tennis courts and four netball courts are situated between the Recreation Centre and the Sport & Rugby Institute (SRI). You can arrange outdoor lighting for use on these courts for a small fee at the Recreation Centre reception.
There are also two basketball courts located on the Massey Halls side to the north of the Recreation Centre building. All outdoor courts are free to use or, with the exception of the outdoor basketball court, can be booked through reception.
Fields*
The Recreation Centre manages 11 field spaces that are used for events and sports games including rugby, football, and Ultimate Frisbee. These are not available for general use.
Rules for use
To keep our facilities safe and enjoyable for everyone we have rules, terms and conditions and a code of conduct to guide how they are used. Please read and follow these when you use our facilities.
Follow us on social media
You can follow the Massey Recreation Centre on these social media sites.
Massey Sport and Recreation Centre on Facebook
Follow 'masseyreccentre' on Instagram
Download the Massey Uni app
Get Recreation Centre information in your pocket with the Massey Uni app.
Download the Massey Uni app on Google Play or the App Store.
With its green, park-like grounds in the compact, friendly city of Palmerston North, Manawatū campus is a great place to enjoy the real student lifestyle.