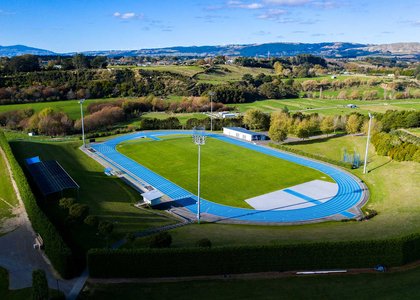 On this page
About the athletics track and facility
We have an eight-lane all-weather track built to International Amateur Athletic Federation (IAAF) standards. Other features of the athletics facility include:
throwing circles
jump runway and pits
pole vault
high-jump areas
steeplechase water jump
grassed centre sports field
practice throwing area.
The track is available to all students and the public and is free to use if your group is fewer than 10 or you are on your own. Be aware that it may be booked and in use by Massey groups and clubs.
Larger groups can hire the facility online
Booking the track and equipment
You can use the track without booking if you are using it on your own or in a group of fewer than 10 people. We recommend you check the bookings list first to make sure the facility is free. For larger group bookings, fill out our online booking form.
Make a booking to use the athletics track and facility
Track Bookings at 18 Mar 2021 [PDF, 466KB]
Lighting the track
During winter you may need lights at the track. You can book these for a fee of $6 per hour through the Massey Sport and Recreation Centre.
Parking and getting to the track
Public and spectator parking is available near the track off Albany Drive for a fee of up to $4.50 per day during the week (weekends are free). There is also a designated area for drop offs, including by bus.
Athletics Track Event parking Sep 2019 (PDF, 346 KB)
Athletics clubs contacts
Contact reception
Massey Sport and Recreation Centre, Manawatū (Palmerston North) campus
Hours
Monday to Friday, 6am to 10pm; Weekends 9am to 6pm (Semester one and two)
Monday to Friday, 6am to 9pm; Weekends 8am to 4pm (Summer hours)
Our hours and group fitness classes are as follows:
ANZAC Day (25th April) 1pm-5pm - No group fitness classes scheduled
ANZAC Day Observed (26th April) 10am-4pm - GRIT 10.30am; all other classes cancelled
Location
Orchard Road
Massey University
Palmerston North
New Zealand 4442