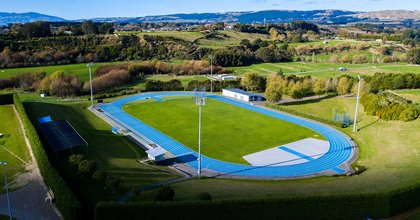 About the athletics track and facility
We have an eight-lane all-weather track built to International Amateur Athletic Federation (IAAF) standards. Other features of the athletics facility include:
throwing circles
jump runway and pits
pole vault
high-jump areas
steeplechase water jump
grassed centre sports field
practice throwing area.
The track is available to all students and the public. It is free to use if your group is fewer than 10 people or you are on your own. To make sure the track is available for you to use, always check the Track Bookings List.
Larger groups can hire the facility online
Massey University has adopted a mandatory vaccination requirement for all persons accessing our campuses and other facilities which includes the Manawatu Community Athletic Track. This mandate will take effect from 14th February 2022. As Massey campuses and facilities are only accessible to fully vaccinated people (or those with a Ministry of Health exemption), anyone entering our facilities will need to have a 'My Vaccine Pass' and be able to show it upon request.
Booking the track and equipment
You can use the athletics track without a booking if you are using it on your own or with a group of fewer than 10 people. Bookings are essential for larger groups.
Make a booking to use the athletics track and facility
Lighting the track
During winter you may need lights at the track. You can book these for a fee of $6 per hour through the Massey Sport and Recreation Centre.
Parking and getting to the track
Public and spectator parking is available near the track off Albany Drive for a fee of up to $4.50 per day during the week (weekends are free). There is also a designated area for drop offs, including by bus.
Athletics track - event parking map (PDF, 4Mb)
Athletics clubs contacts
Massey Sport and Recreation Centre, Manawatū (Palmerston North) campus
Hours

Monday to Friday, 6am to 10pm; Weekends 9am to 8pm (Semester One and Semester Two)

Location

Orchard Road
Massey University
Palmerston North
New Zealand 4442