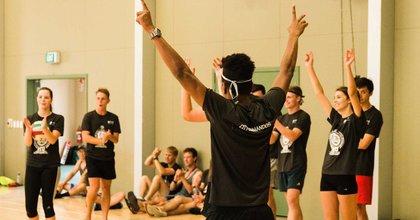 Timetable
Social sports at the Massey Sport and Recreation Centre are as follows.
Basketball: Mondays 7pm to 10pm
Volleyball: Tuesdays 6pm to 8pm
Netball: Wednesdays 6pm to 10pm
Ultimate Frisbee: Thursdays 6pm to 9pm
Futsal: Sundays 4pm to 8pm
We encourage teams of students staying in the accommodation halls, and non-halls teams, to enter the league. Non-students are also welcome to participate. Social sports are a great way to meet people and stay active while having fun.
Prices and registration
Prices for taking part in the social sports league are:
$175 student team
$350 non-student team
Basic rules
We have a number of basic rules you need to follow when playing in the social sports league.
Only players from your registered team list can play - no ring ins!
All leagues other than Futsal must have at least one female on the court at all times.
Shoes must be worn – no shoes, no game.
Warm up before the game to reduce risk of injury.
Results tables are posted weekly at the Recreation Centre.
Draws cannot be changed to suit individual teams.
Fair play
Our fair play philosophy is:
honesty in contest
politeness between all participants (including full respect towards your supervisors)
an acceptance in good spirit of the results.
Draws and results
Draws and results will be available once the leagues begin.
Contact the Coordinator
Brigetté Grooby
Receptionist & Administrator, Recreation and Sports Centre
Email b.grooby@massey.ac.nz
Ron Werner
Operations Manager, Recreation and Sports Centre
Email r.p.werner@massey.ac.nz
Massey Sport and Recreation Centre, Manawatū (Palmerston North) campus
Hours

Monday to Friday, 6am to 10pm; Weekends 9am to 8pm (Semester One and Semester Two)

Location

Orchard Road
Massey University
Palmerston North
New Zealand 4442