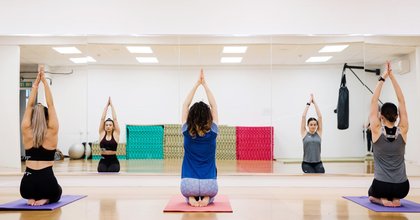 Manawatū Recreation Centre level 2 restrictions
Note: our yoga classes are not currently operating due to level 2 restrictions.
On this page
Yoga is a great way to gently introduce physical activity to your life. Our Vinyasa yoga classes are flowing sequences of poses and rhythmic breathing to music.
As well as reducing stress, our yoga classes can help ease discomfort related to lack of flexibility or repetitive movement.
Class details
Class details are as follows:
two classes per week
mats available or bring your own
open to everyone.
Times and location
Timetables and location information:
Monday: 5.15pm—6.05pm
Tuesday: 12pm—12.50pm (women only)
classes held in the Dance and Dojo Room, Sport and Recreation Centre.
Prices and payment
Yoga classes are not included in membership plans. Prices are:
$10 per session — pay at reception
$90 for 10 sessions — pay online or at reception.
What to expect
Classes run for approximately 50 minutes.
Vinyasa yoga is a flowing, dynamic sequence of poses. Also sometimes called 'Vinyasa Flow Yoga', this type of practice involves synchronising the breath with a continuous flow of postures.
We recommend you wear comfortable clothing you can easily move in. You may also like to bring some extra layers so you stay warm for the relaxation phase at the end of the session.
Pay online for a yoga 10-session pass