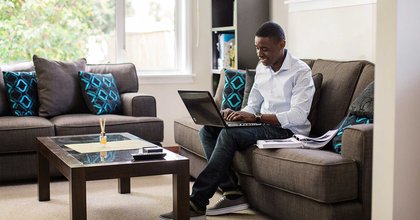 Learning to use Stream
When you start your online study, you'll need to get to grips with a new way of working.
You'll attend your lectures and seminars in Stream, Massey's online learning environment. You'll also use Stream to find course material and assignments, and to have discussions with your lecturers and other students.
Learn about Stream, and check it works on your internet browser
Fitting study into your life
Whether you're studying full–time or balancing your qualification with other commitments, it's normal to feel nervous about how you'll manage your workload.
Plan your workload
Being organised and realistic is the key to enjoying your online study experience and succeeding at your programme.
Remember that each course takes about 12 hours' work a week.
Ask your lecturer for your assignment and exam dates at the start of your first semester, so you can make a plan to meet your deadlines.
Before you enrol in courses each semester, you can use our Workload Planning Tool to calculate how much time you have to study.
Sorting out your timetable
As an distance student, you'll be able to watch your lectures and do your assignments at times that suit you – but you'll probably also have to take part in online tutorials at set times.
Stay on top of your schedule by creating a timetable in the student portal.
Step 1: Confirm your tutorial times in Stream
Open your course in Stream.
In the menu at the top left of the screen, choose "Tutorials".
If your course coordinator has set tutorial times, you'll be able to see yours on this page.
If the course coordinator wants you to choose from a range of times, you'll see your options on this page. Click on one to sign up. Remember to choose a time that doesn't clash with any of your other lectures or tutorials.
Repeat this process for each of your courses.
Step 2: Add your lecture and tutorial times to the student portal
Log in to the student portal, and find the link to your timetable at the top right of the screen.
On this page, you'll be able to see all of the available lectures, tutorials and labs for each of the courses you're enrolled in.
Hide the tutorials and lectures you don't plan to attend by clicking on the blue tick-box in their top right hand corners.
You should be left with only the lectures, tutorials and labs that you're signed up to.
Step 3: View your timetable in the Massey Uni App
Find out how Student Services can support you
There are lots of ways we can support you to make the most of your time at Massey, and stay happy and well while you're with us. You can access health and wellbeing support, counselling, academic support, disability support, financial assistance and more.
How to get medical treatment at Massey 
Finding a good place to work
Most distance students love having the freedom to study at home or in a cafe – but if you need somewhere quiet to focus, you can also work at a university campus.
Study on a Massey campus
If you live near a Massey campus they are great places to work. You'll get free wifi and access to our library collections, individual and group study spaces and cafes. You can even drop into a class at the Recreation Centre on your way home!
Work in another university's library
If you don't live near a Massey campus, you may be able to work in another university's library. Massey students can use and borrow books from university libraries around New Zealand and Australia as part of the ULANZ scheme. You'll need your Student ID card to do this.
Libraries you can access with your Massey Student ID card 
Meeting and working with other students
You may be studying by distance, but you're still an important part of the Massey community. Connecting with others isn't just about socialising – sharing ideas, working together and supporting each other will help you succeed at your programme.
Social media is a great place to start. Join the Facebook group for the university's society for distance students, Massey@Distance.
There are also groups especially for international students, Māori and Pacific students, different subjects and more – so it's easy to find somewhere you'll feel at home.