Type of qualification
Graduate diploma
Level of study
Graduate study
Graduate qualifications normally involve study in a different area to your first undergraduate qualification. Some are stepping stones to postgraduate-level study.
NZQF level 7
Our courses follow the New Zealand Qualification Framework (NZQF) levels.
Time to complete
2 years part-time (120 credits). Not available for full-time study.
Up to 8 years part-time
Part-time available
Where you can study
Distance and online
International students
International students are not New Zealand citizens or residents.
Open to international students studying online from outside New Zealand
Study a Graduate Diploma in Logistics and Supply Chain Management – GradDipL&SCM
This qualification is studied on a part-time basis over (at least) two years and is ideal for currently employed supply chain and logistics practitioners who wish to further their careers.
All material is presented on Massey University's online learning platform and assessments are written and verbal assessments (no exams to sit). The courses are highly relevant to people with an interest in all areas of logistics and supply chain management. In addition to corporate enterprises, the qualification will interest government employees, military personnel, emergency services, non-profit organisations and service industries.
The GradDipLSCM opens the opportunity to  postgraduate qualifications such as the PGDipSCM and the MSCM.
There are no formal research requirements other than those required for assignments or individual courses.
The aim of the graduate diploma is to encourage you to take advantage of ongoing and regularly updated learning throughout your life.
Entry requirements
Admission to Massey
All students must meet university entrance requirements to be admitted to the University.
Specific requirements
To enter the Graduate Diploma in Logistics and Supply Management you will:
have been awarded or qualified for a relevant bachelor's degree or equivalent, or
have completed at least four years of relevant professional experience, or equivalent.
You will need to provide verified copies of all academic transcripts for studies taken at all universities other than Massey University. 
English language requirements
To study this qualification you must meet Massey University's English language standards.
This qualification is classified as NZQF Level 7 and requires the same English language standard as most undergraduate bachelor degrees, diplomas and certificates.
Prior learning, credit and exemptions
For information on prior learning, exemptions and transfer of credit or other questions:
English language skills
If you need help with your English language skills before you start university, see our English for Academic Purposes (EAP) courses.
Maximum time limits for completion
There are maximum time limits to complete some undergraduate and all postgraduate qualifications. If you do not complete within the maximum time, you may be required to re-apply for the qualification if you wish to continue your studies.
Time limits for Honours, Distinction and Merit
If you complete this qualification within the stated time limit and to a high standard, you may be able to graduate with Distinction.
Look for further information under 'Student Progression' in the regulations for this qualification.
More information
Read the regulations for this qualification thoroughly
Contact us through the Enquire button on this page if you have any questions.
Official regulations
To understand what you need to study and must complete to graduate read the official rules and regulations for this qualification.
You should read these together with all other relevant Statutes and Regulations of the University including the General Regulations for Undergraduate Degrees, Undergraduate Diplomas, Undergraduate Certificates, Graduate Diplomas and Graduate Certificates.
Returning students
For returning students, there may be changes to the majors and minors available and the courses you need to take. Go to the section called 'Transitional Provisions' in the Regulations to find out more.
In some cases the qualification or specialisation you enrolled in may no longer be taking new enrolments, so may not appear on these web pages. To find information on the regulations for these qualifications go to the Massey University Calendar.
Please contact us through the Get advice button on this page if you have any questions.
Structure of the Graduate Diploma in Logistics and Supply Chain Management
You may complete this qualification in two years, but you must commence study in Semester One.
Courses and specialisations
Key terms
Courses

Each qualification has its own specific set of courses. Some universities call these papers. You enrol in courses after you get accepted into Massey.

Course code

Each course is numbered using 6 digits. The fourth number shows the level of the course. For example, in course 219206, the fourth number is a 2, so it is a 200-level course (usually studied in the second year of full-time study).

Credits

Each course is worth a number of credits. You combine courses (credits) to meet the total number of credits needed for your qualification.

Specialisations

Some qualifications let you choose what subject you'd like to specialise in. Your major or endorsement is what you will take the majority of your courses in.
Credit summary
120 credits
Compulsory courses

– 75 credits

Electives from the Schedule

– 45 credits
Not more than 45 credits at 200 level.
At least 75 credits at 300 level.
Course planning key
Prerequisites

Courses that need to be completed before moving onto a course at the next level. For example, a lot of 200-level courses have 100-level prerequisite courses.

Corequisites

Courses that must be completed at the same time as another course are known as corequisite courses.

Restrictions

Some courses are restricted against each other because their content is similar. This means you can only choose one of the offered courses to study and credit to your qualification.
Compulsory courses (Choose 75 credits from)
Choose 15 credits from
Course code:

152264

International Supply Chain Management

credits

15
Course code:

240262

Transportation Systems

credits

15

This course studies transportation systems with an emphasis on international intermodal transportation. The economic and operating characteristics of differing transportation systems will be examined, along with costs and regulations of transportation services and the role of information technology on transportation systems.

View full course details
Course code:

290203

Buying and Category Management

credits

15

A study of the theory and practice of effective product buying from suppliers, and the planning of product range construction and execution of merchandising the range to the customer in the retail environment.

View full course details
Choose 30 credits from
Course code:

240362

Supply Chain Trends and Applications

credits

15

A study of the impact of current industry trends on how businesses can engineer and operate their logistics and supply chains to create greater value for the organisation.

View full course details
Course code:

240364

Purchasing and Supply Management

credits

15

A study of the scope of purchasing and procurement and the principles, structures and key variables of supply management.

View full course details
Course code:

240365

Demand Chain Management

credits

15

A study of distribution management concepts and strategy together with an exploration of demand chains. Methods to align supply chain strategies with market drivers are examined. A range of distribution channel approaches are also discussed in regard to alternative customer demands.

View full course details
Fees and scholarships
Fees, student loans and free fees scheme
Your tuition fees may be different depending on the courses you choose. Your exact fees will show once you have chosen your courses.
There will also be some compulsory non-tuition fees and for some courses, there may also be charges for things such as study resources, software, trips and contact workshops.
Already know which courses you're going to choose?
You can view fees for the courses that make up your qualification on the course details pages.
Student loans (StudyLink) and Fees Free scheme
You may be eligible for a student loan to help towards paying your fees.
The New Zealand Government offers fees-free tertiary study for eligible domestic students. Find out more about the scheme and your eligibility on the Fees Free website. To use the site's eligibility checking tool, you will need your National Student Number.
Current and returning Massey students can find their National Student Number in the student portal.
Careers and job opportunities
Businesses are increasingly looking for improvements in their logistics and supply chain performance, so employment prospects are positive.
You can take this major to enhance your performance potential with an existing employer. Or you may view this major as an opportunity to become familiar with logistics and supply chain operations.
Related study options
With Massey's Bachelor of Construction (Construction Management), you will be able to make your mark on this growing industry. Most of our students have a cadet position before they have finished their degree.
With Massey's Bachelor of Construction (Honours) (Construction Management), you will become a highly sought-after construction expert who can contribute to all sectors of the construction industry.
Join Massey's Master of Quality Systems, the only graduate-level qualification in quality management in Australasia.
With Massey's Master of Supply Chain Management you will gain a comprehensive understanding of supply chain concepts and the skills to solve complex problems.
With Massey's Postgraduate Diploma in Quality Systems, you'll gain the knowledge and skills to become a manager who ensures quality systems are integrated throughout your organisation.
Learn how to manage supply chain relationships and optimise global logistics with Massey's Diploma in Supply Chain Management. These skills are crucial to business success.
Useful planning information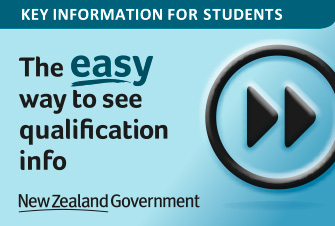 Key information for students
Compare qualifications and academic information across different New Zealand institutions. Learn more on careers.govt.nz