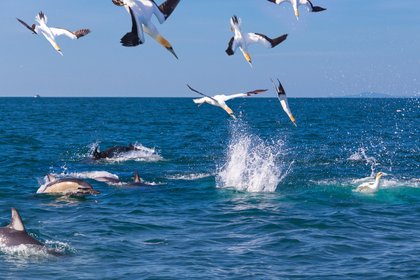 An international collaborative study between Massey University, Nantes University, and Nutri Lens has combined multiple scientific tools to explore the unified world of dolphins and gannets.
Combining stomach content analysis, nutritional composition of prey, a multi-dimensional nutritional framework, and videography, the authors provide a new and holistic dietary, nutritional, and behavioural assessment of the feeding association between common dolphins and Australasian gannets in the Hauraki Gulf of New Zealand.
The study, published this week in ICES Journal of Marine Science, revealed significant overlap in both the nutritional quality of prey eaten and the range of diets composed through feeding on the prey between dolphins and gannets.
Director of Massey University's Cetacean Ecology Research Group Professor Karen Stockin says, "Both predators coexist in a similar nutritional space, while simultaneously reducing interspecific competition and maximising the success of both encountering and exploiting patchily distributed prey."
"Behavioural analysis further revealed dolphin and gannet feeding associations are likely to be mutually beneficial, with specific foraging strategies and larger pod sizes of dolphins influencing the diving altitude of gannets," Professor Stockin adds.
Research Associate with the Cetacean Ecology team and senior author of the study, Dr Gabriel Machovsky-Capuska says, "The article presents a pioneering approach that helps us to understand the nutrition and behaviour of one of the most iconic and successful relationships in wildlife. Our approach can also be used to support the conservation of endangered species in terms of food quality and foraging behaviour."
Tuesday 3 November 2020
Evidence has emerged to support stricter coastal management, this time focusing on pollution and overfishing.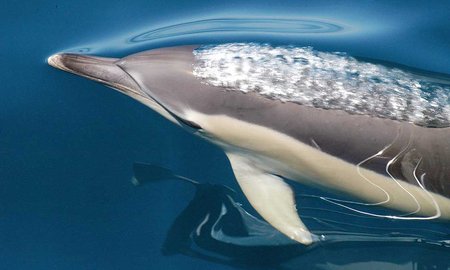 Tuesday 9 August 2022
New research using stable isotopes has shed light on how New Zealand's diverse range of toothed whales and dolphins coexist.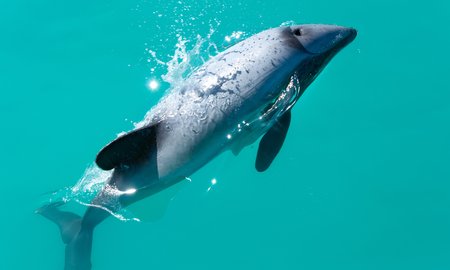 Monday 4 October 2021
Scientists have revealed emerging environmental contaminants of concern within New Zealand dolphins, with similar pollution levels to Japan.