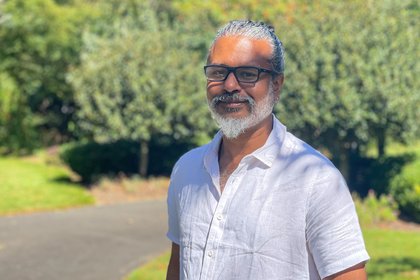 Last updated: Thursday 18 May 2023
The first stop Shehan Karunatilaka wanted to make upon his return to Palmerston North was takeaway joint Golden Takeaways, for a fish burger.
While it was a tad smaller than he remembered, and a couple of dollars more, the taste was just as glorious, he says.
Mr Karunatilaka has been in Aotearoa New Zealand for a trip down memory lane and to catch-up with former university friends and classmates, following a whirlwind 12 weeks travelling around Pakistan, Bangladesh, India and Hong Kong.
His second novel, The Seven Moons of Mali Almeida, won the 2022 Booker Prize in October last year and since then he's been in demand all around the world.
"I was looking forward to coming to New Zealand to have a holiday, relax a bit and not talk," he says.
It didn't quite turn out that way, however. When news got around that he was going to be in town, Mr Karunatilaka was invited back to his old secondary school, Whanganui Collegiate School, to receive their highest honour - the School Honours Tie. During the ceremony, he gave a speech to the school and he has readings and media interviews lined up for his three weeks in New Zealand.
Fond memories of Massey
A visit to our Manawatū campus was something he had been looking forward to incorporating into his holiday. Mr Karunatilaka was a Massey student in the early 1990s, completing a Bachelor of Arts (BA) followed by a Diploma in Business Administration.
"I was supposed to study commerce, but I slowly shifted to a BA. I didn't tell my dad, he only found out at graduation that I'd done a BA, but then I came back and did a business diploma, which made him a bit happier."
During his time as a student, he was involved in the live music scene in Palmerston North, playing in grunge and alternative rock bands. He also wrote music reviews for student magazine Chaff and played in a university cricket team.
Following graduation, he moved to Wellington to write a novel.
"I flatted on Cuba Street, above Hotel Bristol. It was a fun year, but I didn't get much writing done," he jokes.
He left New Zealand in 1998 to take a job in advertising back home in Colombo, Sri Lanka.
Inspired to write
Mr Karunatilaka's first novel, Chinaman, was written while he was working full-time.
"I woke up at 4am, wrote for four hours before work, then went to work. I did that for a good six months. Then when I realised the story needed more of my attention, I quit my job and went freelance, and I wrote the book alongside that over the next two years."
Chinaman was a cult success in India, but not enough so that Mr Karunatilaka was able to quit freelancing. However, working in advertising is something that he credits as helping him come up with ideas for novels.
"The ideas are the easy part. I have ideas for the next three or four books. Working in advertising, you can't wait for inspiration because you've got a client who wants 20-odd ideas by a deadline, so you've got to come up with them whether you're feeling inspired or not."
But inspiration can take time. The Seven Moons of Mali Almeida took seven years to write.
"The pandemic was a great time for us writers because we were stuck at home. Most of us buy more books than we read so there are all these unread books, and you think, ok, I can't go to the bookstore, so I'm going to read all these books that I've been meaning to read and finish these projects I've got on the desk. So, I finished this novel during that time. A lot of us writers say, as cruel as it sounds, we're waiting for the next pandemic so we can get things done."
The draft was called Chats with the Dead. Because his first novel had been a success, there were several offers from publishers in India. But it wasn't quite so easy to get a publisher in the United Kingdom or the United States.
"Publishers weren't sure a western reader was going to understand the Sri Lankan politics in the novel, or the ideas of the afterlife and rebirth and notions like that which are so inherent in Indian and Sri Lankan society."
Mr Karunatilaka had done a bit of work for independent British publisher Sort of Books, so decided to send the manuscript to them.
"Editor Natania Jansz told me it needed work but decided to take it on board. We spent two years editing it together. There are a lot of elements to this book. It's a murder mystery, it's a political thriller, it's also a ghost story, there's a love triangle at the centre of it, there are a few jokes and a few absurd bits.
"Natania said to me, 'You've got a lot of elements, just make sure all the instruments aren't playing at once'."
The Booker Prize
The Booker Prize, founded in 1969, is awarded each year to the best work of fiction written in English and published in the UK and Ireland. Publishers submit novels for consideration, resulting in around 100 entries from around the world.
"The irony is that if I'd gotten a big publisher for Seven Moons, perhaps they wouldn't have submitted mine because when you've got big name authors, you're not going to submit someone unknown. But with Sort of Books, mine was their main book so they submitted it."
While the Booker process was underway, he had just returned home to a turbulent Sri Lanka following a three-month International Writing Programme residence at the University of Iowa.
"In the midst of all the chaos happening, there was the Booker. My wife was in a four-day queue for petrol, so I was looking after the kids. I was walking my son to school when Natania called and said we'd been long-listed for the Booker Prize."
Thirteen novels make the long-list. The news came shortly after that the book had made the short-list, the top six.
He was then off on a trip to England with his wife for the Booker circuit week, alongside the other five finalists.
"We had a week of interviews and engagements. We got Sunday off and then the announcement was on Monday. My attitude was, ok, I just have to wear a suit, shake a few hands and someone else's name will get called out and my wife and I can have a holiday then go back home."
Mr Karunatilaka says he did have a few speech notes in his pocket though, just in case.
When his name was read out as the winner, he gave Queen Consort Camilla Parker-Bowles a hug, which he later got a bit of flack for, and then gave his speech.
He spoke in Sinhala, Tamil and English.
"Straight after you win, you're live on the BBC, New York Times, The Guardian. Then the next day they send a car at 6am to pick you up and your first interview is at 7am and they go through until 6pm the next day. I didn't even get time to have a proper celebratory drink. I think I got about two hours of sleep."
What's next?
Mr Karunatilaka says his life is now completely different.
"I have staff, I have people answering emails for me and doing my social media. I have messages from so many people wanting me to speak at their events. I'm having discussions about film rights, audio rights and I'm suddenly getting pay checks."
While he's already started writing a third novel, he says he doesn't expect to get much more of it done this year.
"I suspect it isn't going to be difficult to find a publisher for my next book. Now, potentially, I could write whatever I want. Of course, if my next book sucks people are going to be quite brutal, so there's that pressure."
He also says he's hoping to move back to New Zealand with his family at some point in the near future.
And what advice would he give to aspiring writers?
"The thing you do every day – that's what defines you, whether you like it or not. By 32 I had read enough books, I'd travelled enough, I'd written enough that I felt that I had the ability to do it and I gave it a go.
"If I don't read every day, if I don't write, I feel the day is wasted. Even if you can commit to writing for one hour a day, after a year of doing that, you will have something. That's really the only way it's done."
Friday 21 October 2022
Massey alumnus and one of Sri Lanka's foremost authors Shehan Karunatilaka has won the Booker Prize 2022 for his second novel, 'The Seven Moons of Maali Almeida'.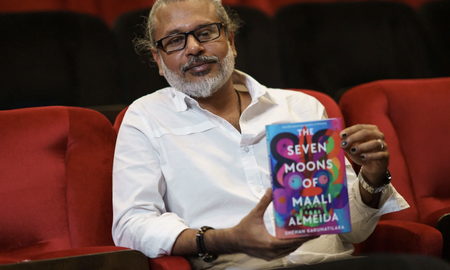 Monday 12 August 2019
Distinguished Professor of Fine Arts, Sally Morgan, has signed a book deal with British book publisher John Murray (Hodder and Stoughton) for her novel, Toto Among the Murderers.