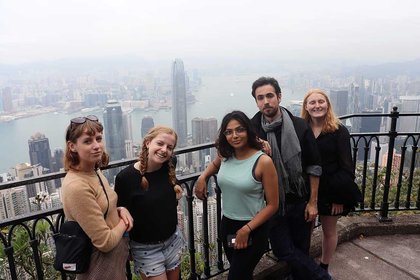 Massey fashion design student Fynn Stevens (left) with fellow Massey and AUT students on the Prime Minister's Scholarship to Asia, pictured in Hong Kong.
Internships with companies in Mainland China's massive fashion and clothing industry have given Massey University design students some fascinating insights into cultural aspects of the business, thanks to a Prime Minister's Scholarship to Asia.
Four students from the College of Creative Arts in Wellington were part of a group of nine New Zealand design students to spend four weeks in Hong Kong and China in January. They visited design education faculties in Hong Kong before travelling to Guangzhou, (Mainland China), where they observed at close range the workings of the 'Made in China' clothing phenomenon.
The trip was funded through a successful joint application for the Prime Minister's Scholarship for Asia last year by internship company, Eden Travel International (ETI) in partnership with Massey University and AUT, to support students to complete a four-week Design Internship Programme.
Massey Visual Communication Design student Sophie Douglas says the scholarship; "opened my eyes to just how different it can be to work outside of New Zealand. I had to learn new customs, some of which were completely opposite to those I knew. 
"I was able to gain an in-depth understanding of Chinese culture and what differentiates it with New Zealand culture," she says.
While spending time at the School of Design at the Hong Kong Polytechnic University, Sophie was impressed by its PolyU SDWorks – a platform assisting students to launch their ideas into the real world, understanding optimization, issues with manufacturing companies and customers' feedback, and giving them the opportunity to turn their projects into commercial products.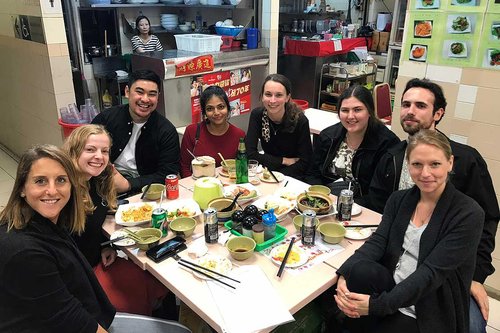 Scholarship students and trip organisers enjoying a taste of Hong Kong (from left) Katie Eden (Eden Travel), Caitlin Hogan, Corban Strictland, Ash Angadi, Sophie Douglas, Tallulah Farrar, Marco Staines and Melissa Brandon (Eden Travel).
Internships open doors to Asian market
Among noticeable differences with home was the presence of camping mattresses set up on the floor of the classrooms (in Hong Kong) for students to sleep when they worked through the night. "I realised later that this was reflective of the work ethic and culture in Hong Kong and China. Of course, we are sometimes working through the night, but it is always discouraged by our lecturers," she says.
China was, she says; "a bit of a culture shock arriving and trying to navigate the station in Guangzhou with nobody speaking English.
"I believe that the most effective way to learn about the culture is to be immersed in it, and that's what we have done," says Sophie, who did an internship with Fotorama. She hopes this new understanding will help to open doors to work more easily in Asia in the future, adding that the experience has helped her "grow, both as a person and as a designer, more than I thought possible in such a short amount of time."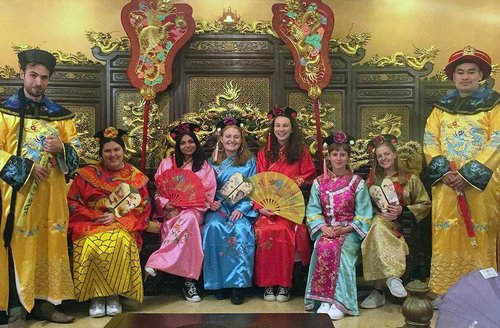 Design and fashion students experiencing Chinese traditional dress styles.
Mixing with the locals a key to cultural knowledge
Fynn Stevens, a fashion design student, recalls her early morning walk to an internship placement at CT (China Textile) Traders in Guangzhou. "I wanted to see the morning patterns of the people living around me. I ate locally, saw and followed trends, followed crowds, learnt what I could of the language, learnt cultural traditions as they came, asked many, many questions. 
"Locals took interest in my desire to learn more about their ways of life – they were happy to help, to translate for me, to make do with my gestures and sign language when language wasn't an option," she says. "I learnt about the people by observing and listening."  
During her internship, Fynn had the chance to sit in on several meetings with a New Zealand start-up brand as they planned their first clothing launch, marketing strategies, range planning, campaign shoot, fabric sampling, and price pointing.
She says his experience in China; "definitely developed me as a global citizen. I saw I lived on a globe with many others. I saw that there are more ways of life than my own. I felt small, and yet a part of something much larger than I can imagine." 
AUT design student Caitlin Hogan says her immersion experience in Hong Kong helped her to appreciate and understand differences "much more than just being a tourist."
It was also "eye-opening in terms of how different cultures work, learn, live and play" – something she feels is important to realise as a designer. "Over our working lives we will be exposed to many people from different backgrounds and with the help of technology we'll likely be working on global projects." 
The impetus for the trip was for the students to be exposed to an international working environment as part of the Massey University Global Citizen programme, which provides a platform for international opportunities, says Craig Lyons, a Senior Advisor, Student Mobility, International Relations Office.