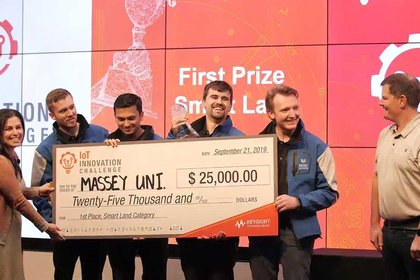 Last updated: Thursday 19 May 2022
A Massey University engineering team has won its category at a global competition in New York City for an air-quality project.
The Keysight Technologies Incorporated's Internet of Things (IoT) Innovation Challenge asked teams from around the world to conceptualise a low-power sensor network to tackle the world's rapid urbanisation in either a Smart Land or Smart Water category.
The Massey engineering team submitted its CAIRNet (Climate Air Information Real-time Network), an air-quality monitoring network to the Smart Land category. The network is capable of using cost-effective sensors to measure carbon monoxide, nitrogen dioxide, particulate matters, temperature and humidity.
Competing against teams from the Massachusetts Institute of Technology in the United States and the Institute of Engineering and Management in India, the team had just 10 minutes to convince judges of the network's benefits. PhD students Baden Parr and Tyrel Glass led the presentation, with the support of  Bachelor of Engineering with Honours graduates Madhav Kruthiventy and Darryn Wells.
Mr Glass and Mr Parr are both Massey Bachelor of Engineering (Honours) graduates and are alumni of the e-centre, a business incubator hosted at Massey University's Auckland campus.
For winning their category the Massey team were awarded $US25,000 (approximately $40,000) and $US25,000 worth of Keysight test equipment for the University.
E-centre chief executive Jackie Young praised the team, saying the winning combination "shows the value of developing innovation and enterprise capability".
In the Smart Water category, Malaysia's Universiti Tunku Abdul Rahman won first prize, while a team from Stanford University was named the grand prize winner for its immersible sensors for cloud-based water quality monitoring.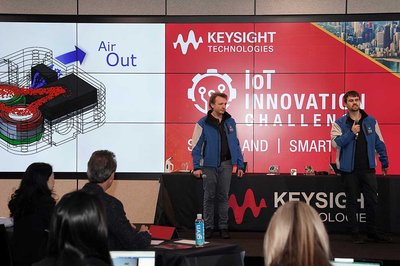 What is CAIRNet?
Each sensor is capable of long-range and low power communication over a network of Internet of Things and short-range, high-data rate communication over wi-fi. It is solar powered, weather resistant and designed to be easily deployed at a large number of locations. The data collected from the sensor nodes is stored in a cloud-based server and is ultimately displayed on a web page for end-users.
The group's supervisor, Dr Fakhrul Alam says the win highlights Massey's success at producing world-class engineers. "Air quality monitoring stations are currently confined to only a small number of locations due to the high cost of the monitoring equipment," Dr Alam says. "They provide a low-fidelity picture of the air quality in the city; local variations and pockets with high densities of pollutants are overlooked.
"CAIRNet can help measure air quality, in real time, at a large number of urban locations in a cost-effective way. Real-time air pollution data can raise the awareness of general public that could lead to the uptake of sustainable living and be an effective tool for the government and the policy makers for minimizing air pollution."
The work has impressed air quality scientists from the National Institute of Water and Atmospheric Research and other government agencies and has received funding from the Massey University Research Fund and the Ministry of Business, Innovation and Employment Product Accelerator Fund.