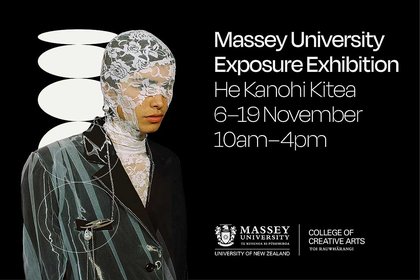 Last updated: Friday 25 November 2022
A new generation of artists, designers and other creatives' work will be on show at Massey University's annual Te Kanohi Kitea Exposure exhibition in Wellington for two weeks from 6 – 19 November.
Featuring innovative and inspiring exhibits from graduates of the College of Creative Arts' School of Art Whiti o Rehua, Wellington School of Design Nga Pae Mahutonga and the School of Music and Creative Media Production Te Rewa o Puanga, the exhibition has been the launching pad for many careers beyond university.
Exposure Te Kanohi Kitea showcases the work from soon-to-be graduates in design (photography, fashion, textiles, industrial, spatial and visual communication design), fine arts, creative media production and commercial music. Work by masters students in design, fine arts and creative enterprise will also be on display.
Highlights of the exhibition include original music incorporating both Te Reo Māori and English, a 3D animated short film, a Pasifika talk show pilot, a multi-modal transport planning app, a project exploring the destruction and reconstruction of the 21st century reading experience and a fashion collection challenging masculine gender stereotypes.
College of Creative Arts Pro Vice-Chancellor Professor Claire Robinson says Exposure is an annual highlight on Wellington's creative calendar. "Exposure is a chance to showcase the exceptional work of our graduating students, who through cross-disciplinary learning with real world briefs, leave Massey equipped with critical thinking, entrepreneurial attitudes and innovative problem-solving skills."
"Our graduates find success in New Zealand and around the world, and Exposure is a wonderful opportunity for the public to view their talent and experience our world-class facilities," Professor Robinson says.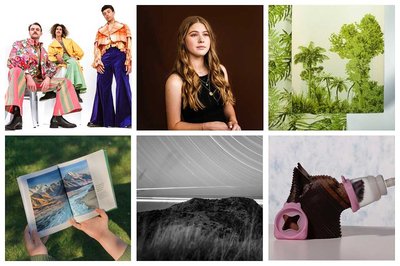 Exhibitor examples
Exhibitor Charlotte Mangos, whose collection Masculinity with a Flare explores gender stereotypes, says her collection is conceptual and she hopes it could be commercial in the future. "My collection aims to challenge masculine stereotypes in the fashion industry through the use of colour, print and silhouette. Masculinity with a Flare is a bright, bold collection that not only challenges men's fashion but showcases how colour and print can be used to make a statement on the street."
Jaedyn Randell has produced a five track EP in Te Reo Māori and English that highlights significant moments in her life. "As a proud wāhine Māori, I set out to promote and celebrate my language and culture through my music," she says. Jaedyn's EP is self-recorded and was made by recording the instrumentals and vocals separately before mixing her waiata.
Lauryn Tipper's textile collection promotes the New Zealand wool industry, a market that has been declining since the introduction of synthetics in the 1960s. "The fact that there is such an under-utilised fibre in Aotearoa inspired me to create an interior textile print collection that celebrating its versatility and potential for expansion in the textile market," she says.
Jean Donaldson, from the visual communication design specialty, has created a book called Tiaki, an illustrated tribute to the less charismatic members of Aotearoa's endangered community. Jean's project is aimed at getting young people interested in conservation. She has also recently signed a print contract for the book.
Ben Lowe's photographic series Echoes of the Pulse showcases landscape photos of Wellington's south coast taken at night with long exposure. Ben says the photos engage with time. "The images are the result of responding to circumstance and the senses, bringing the light of the coastal landscape and the stars together."
Jill Miller's industrial design project Somnum is a pet anaesthesia mask with potential for commercial development as it poses a solution to a real-world problem. Jill says she designed Somnum to be a non-invasive, easy-to-use and safer option for veterinary staff.
Te Kanohi Kitea Exposure is free and open to the public daily between 10am and 4pm from 6-19 November at Massey University, Toi Rauwhārangi College of Creative Arts, Wellington.
Visitors are welcome to explore the exhibition at its true scale while observing the required COVID-19 guidelines of scanning in, wearing a face-covering and social distancing.
Limited free car parking is available on campus during the exhibition, please use the parks not marked as reserved or owned by Carepark.
The exhibition is also online at exposure2021.massey.ac.nz.