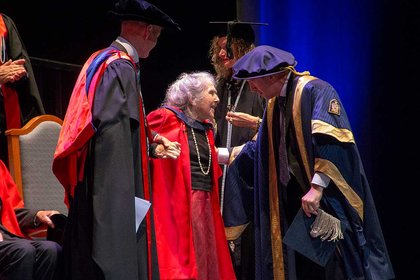 Husband and wife Professors Emeriti Richard Earle and Mary Earle have been recognised with an honorary Doctor of Science degree each as part of Massey University graduation celebrations in Palmerston North today.
A Doctor of Science is rarely conferred, as candidates are required to have made substantial original contributions to the body of knowledge in their field.

Dr Earle joined Massey as the foundation professor of biotechnology in 1965, the same year early career academic Mary Earle joined Massey as a senior lecturer in food technology.

Royal Society Te Apārangi chief executive Dr Andrew Cleland spoke about the dynamic pair before Professor Emerita Mary Earle spoke to the audience at the Regent Theatre.

"Both Mary and Dick have made extraordinary pioneering contributions in their own fields, but since retiring from the University In the 1990s, they have increasingly worked together. Each of their individual stories is significant and deserving of recognition, but to those stories we must add their dedication and contribution as a team of true life partners sharing the same vision, values and beliefs."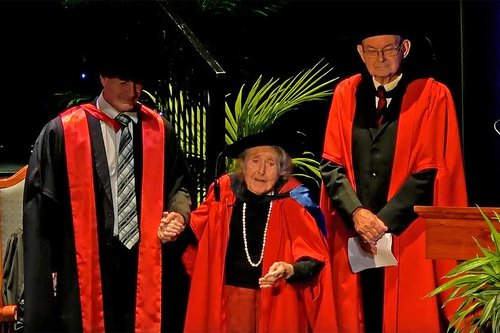 "Mother Mary"
Mary Earle came to New Zealand from Scotland in 1961 and spent her first working years at the Meat
Industry Research Institute, working in food technology and researching prospects for new products.

After joining Massey in 1965, she introduced product development courses into the food technology degree and eventually organised the first four-year degree in product development in New Zealand. She also helped to introduce food technology and product development degrees at five universities in Thailand, becoming affectionately known as "Mother Mary" by her students.

Along the way she had taken the lead in developing the Food Technology Research Centre, a means for industry to bring its issues to the University for export help. The centre started research on post-harvest fish handling, and was the forerunner of significant national fish research programmes that exist today.

"In the history of New Zealand engineering she is an important pioneer and a role model of relevance to this day," Dr Cleland said. "Being the first female academic engineer in New Zealand was no easy task but she even wowed the conservative engineering body, known then as the institution of Professional Engineers of New Zealand (IPENZ). Her impact was so great she was elected an Honorary Fellow within short order. We now better appreciate how tough it was to be a female engineer in those days."

As well as engineering recognition she received acclaim in food technology as an Honorary Fellow of the institute of Food Science and Technology, also winning its J C Andrews Award. She was made an
Officer of the Order of the British Empire in 1993.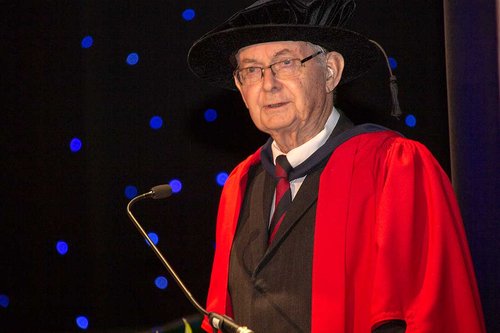 The other half of the team
Dick Earle studied chemical engineering at the University of Canterbury and completed a PhD in
Glasgow, Scotland. After a short period undertaking research in government he moved to New Zealand in 1957 to become the senior engineer at the newly formed Meat Industry Research Institute of New Zealand.
He joined Massey in 1965 and became the world's first Professor of Biotechnology, developing the inaugural university department in that field.

"In those days biotechnology was a completely new word," Dr Cleland said. " He brought the word to life to mean the processing of biological material, a definition far wider than attributed to that term today. He built a pioneering education programme, bringing together a department of diverse staff whom he encouraged to do research that really mattered to industry.

"He opened the doors for his staff to build credibility and significant programmes in meat by-products processing, including the spawning of New Zealand Pharmaceuticals, and in refrigeration where the research group went on to gain world recognition in effluent treatment, in process kinetics and in fermentation technology to name but a few."

He oversaw significant broadening of technology programmes in the University- Massey was the first New Zealand university to create a chair in information technology and had unique and pioneering offerings in product development and packaging technology. He also undertook a number of collaborative programmes with Thai universities to build food and biotechnology programmes in the growing universities of that nation.

His book Unit Operations in Food Processing has been translated into several languages and is regarded as the key text on the topic and is still used today.
He received significant peer recognition ­— the JC Andrews Award and Fellowship from the New
Zealand Institute of Food Science and Technology, and is a Distinguished Fellow of
IPENZ. As well as receiving an honorary doctorate from Khon Kaen University in Thailand, he was elected an officer of the New Zealand Order of Merit in 2003.
The team
Mary and Richard, who retired in 1994 and 1996 respectively, didn't really slow down in retirement. 
"By the end of the 1990s both Dick and Mary were working from home as Professors Emeriti," Dr Cleland said.

"At last there was time to write and they encouraged each other to pursue their own areas of
scholarship, but also wrote together, bringing their unique integrated approach to food product and process development. Dick's love of process kinetics could be applied to inform the development of
processes to manufacture the products that Mary's discipline of product development would create. With their amazing generosity of spirit they sought to use modern digital publication methods to
make their scholarly outputs as widely available as possible."

They have continued to provide opportunities to students through the Creativity and Development Trust in Manawatū and Rangitīkei and the Earle Food Research Fund.

in 2014 they each received the Massey Medal in celebration of 50 years of food technology education at Massey University in 2014. 

Speaking to the crowd, Mary said, "I say to all you here. You have to be creative. Because New Zealand is going to need you. The future will depend on you."