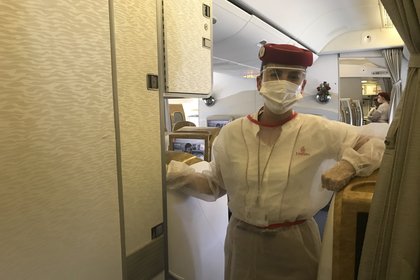 Last updated: Friday 29 April 2022
Stacey Boyce, Ngāti Porou, has always been drawn to health care, and now the former Emirates cabin crew member is studying her Master of Clinical Practice (Nursing) to take her career to new heights.
Massey's two-year graduate entry to nursing qualification enables people with any existing degree to switch career paths and become a registered nurse.
The 32-year-old, who graduated with a Bachelor of Arts majoring in Psychology from the University of Otago in 2011, went on to complete a Graduate Certificate in Health Care Management from Murdoch University in Perth.
"I think I subconsciously put working in the health industry in the too hard basket," she says.
"I've worked in a radiology company in a hospital and for Emirates. Basically, I've somehow been indirectly related to healthcare and first aid. My favourite topic of our crew training was aviation medicine."
During Stacey's time flying, she was part of many medical incidences but one in particular gave her the motivation to change careers.
"On one flight, an eight-year-old girl was a passenger in my area. She had a congenital lung disorder, so her family were taking her to get a lung transplant. In order for her to travel she needed to be accompanied by a paramedic. Unfortunately, during the flight she stopped breathing and went into cardiac arrest. Although she had a trained professional travelling with her, we are still required to assist them. We performed CPR however we were unable to revive her. I obviously wished for a better outcome for the family, but I had to use it as a learning experience for myself. Seeing the way the paramedic worked and reflecting on how I personally dealt with the situation made me realise I wanted to be a part of a healthcare profession."
Stacey says she's always wanted to do more. "It just took me some life experience to figure out what it was I wanted to do," she adds. "Your job isn't what defines you as a person, but I can't wait to feel the pride in being able to say I am a nurse."
She still has a passion for aviation. "We live very close to Whangarei airport, so I love being able to see the planes coming and going. If I could get a job that combines my love for aviation and nursing, I would be super happy. My first placement was in a hospice which to my surprise I absolutely loved, but I do love drama and action so I can't wait to see what the Emergency Department is like."
Stacey says she was drawn to Massey specifically, because of the Master of Clinical Practice (Nursing) qualification.
"All other courses would have taken me three years to finish regardless of my life skills or study history. Finishing in two years means I can get out there and start working sooner. As the course is partly online, I didn't have to make drastic life changes. I loved my university experience and would suggest it to everyone, but it was important my uni work could fit around my lifestyle. It is tough taking a more self-directed approach to learning and finding a balance, but there is so much support available. We do attend block courses on campus, COVID-19 restrictions permitting, and that was a great way to cement practical skills. I was so impressed with the facilities at the Manawatū campus – the simulation lab area was very modern and well equipped."
Stacey will soon be starting work as a health care assistant at Whangarei hospital part-time.
"The health care assistants work in all departments of the hospital wherever the need may be. I'll be providing nurses with assistance such as helping to make beds, provide patient care, helping with mobilising patients or escorting them to other areas of the hospital. Another large part of the role is completing watches - essentially sitting with patients who may have dementia or may be at risk of pulling lifesaving lines out for example. Many experienced nurses have mentioned to me that they find new graduates with health care assistant experience have developed a skill set essential to nursing."
Growing up in the small coastal town of Ruakaka, Stacey attended Bream Bay College, then completed her final year at Diocesan School for Girls in Auckland. In April 2020, just after the pandemic hit, she moved back to Whangarei, after living in Dubai and Perth.
Stacey's keen to find out more about her heritage. "My grandmother and her mother's ancestors are from Tologa Bay, on the East coast. As I've gotten older, I've realised I don't know much about that part of my whakapapa. I am incredibly interested and open to learning more."
She met her husband Ahmad, who hails from Czech Republic, while living in Dubai. "I'm very grateful for his support, especially while I complete my study ­– he did move halfway around the world for me after all."
The couple are looking forward to traveling more when they can.
"Working in the aviation industry allowed me to experience so many awesome countries I would never have dreamed of getting to. My favourite part was experiencing the culture and tasting the local foods. While that's on hold for now, thankfully we live in a beautiful country. I love the outdoors, walking and just exploring new places, and I love being around water," Stacey adds.
Read more about the Master of Clinical Practice (Nursing) here.