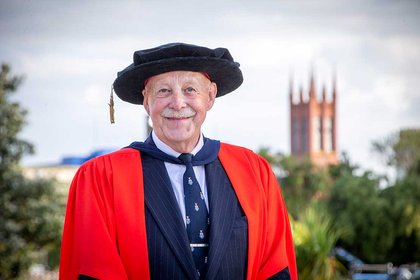 Last updated: Wednesday 6 April 2022
Massey University alumnus and health psychologist Professor Michael Ross has been awarded a Doctor of Science for his lifetime of research into sexual risk behaviour and mental health in gay and bisexual men across cultures and continents.
Professor Ross, who is currently based in the Human Sexuality, Department of Family Medicine and Community Health programme at the University of Minnesota, enrolled in a Bachelor of Arts (BA) in psychology at Massey nearly 50 years ago. He gained his BA (Hons) in 1974, dedicating his academic career from then to understanding the links between internalised homophobia, stigma, mental health and sexual risk-taking in sexual minorities – from the Americas to Africa, as well as Europe and Australia.
He's published more than 500 peer-reviewed papers and 12 books, with his initial work focused on stigma and adjustment in gay men, and subsequently on sexual risk behaviours for sexually transmitted infections, including HIV. 
Professor Ross, back in New Zealand to receive his degree based on a thesis of recently published works, says his choice to work in this area early on was "certainly risky in terms of a future career."
"I saw it as not a mental issue, but one of human rights and science previously based on poor research with only hospital samples. If we were describing heterosexuals based only on samples from mental hospitals, we'd get a pretty inaccurate idea of them too."
As an undergraduate, he says there was "already a recognition that the earlier data were deeply flawed – 1973 marked the American Psychiatric Association removing homosexuality from its list of disorders." 
"I knew at that point that I wanted to go on into academia – and psychology excited me. There were few areas where one could break new ground, and be part of a new direction in the study of human sexuality and human rights.
He graduated from Massey 12 years before the Homosexual Law Reform Bill was passed here in 1986 to decriminalize homosexuality. In 1973, he and two other men became the first to speak openly in the news media. They were interviewed for Radio New Zealand by host Lindsay Perigo. "We talked about being gay, about the issues of having to be hidden and stigma, and about law reform. It led to the slightly later 1973 Listener article, another first."
Social stigma and mental health link in gay men
Professor Ross completed his PhD at the University of Melbourne in 1979, and during the HIV epidemic of the 1980s, he explored the epidemiology of HIV and STIs in Australia, Sweden and Finland and the relationship of social stigma to mental health in gay men. 
His work included the development of methods for Internet studies of sexual minority populations, culminating in his work on internalized homophobia in a study of 180,000 gay and bisexual men in 35 countries and in 25 languages in Europe. This was extended to the epidemiology of HIV-related risk in injecting drug users in Australia, which paved the way into understanding the delivery of health services in prisons in the United States, and how the measurement of the prison social climate could predict health-related behaviours in inmates, staff health and safety in correctional environments. 
Over the past two decades, he published some of the first papers on gay and bisexual men and HIV and sexually transmitted infections in East Africa, and the impact of stigma on health care and risk behaviour in networks of gay and bisexual men. He is currently studying and evaluating the teaching of sexual history-taking and counselling in student nurses and midwives in Tanzania.
"Until the last decade, it was not recognized that there are significant gay and bisexual populations in large African cities, and that HIV risk in Sub-Saharan Africa, especially in the second wave of the epidemic, closely involves some key populations," he says.
Light years and dark ages
Professor Ross, who has worked in medical schools or public health schools in universities since 1978, says that over the 50 years since he began his studies, attitudes towards homosexuality are "light years ahead in terms of social acceptance and knowledge, in most Western countries including New Zealand. But there are major parts of the world which are still in the dark ages in their conceptualization of, and discrimination against, sexual diversity."
Despite being told by a senior psychologist back in 1974 that homosexuality was "not an appropriate topic", for his psychology honours thesis, he says staff at Massey "strongly supported me and I did the thesis – which I believe was the first in New Zealand on the subject, and was published. I owe Massey for that support and academic freedom, which launched my career."
He credits his New Zealand education as standing him in good stead for later scholarly success. "When I was at Cambridge University in the UK (where he earned a masters in Criminology and a Diploma in Applied Criminology in the early 2000s), I got to my first class and thought OMG, I am in here with the brightest people in the world! How am I going to make it? I later realised that I had the advantage of a superb education in New Zealand, from primary school to university, all in Palmerston North – Terrace End Primary, Ross Intermediate, Freyberg, then Massey. I was top or top-equal in my course at Cambridge. What better place [than Massey] to mark the "bookends" on my career of 50 years and nearly 600 publications?"
Professor Ross will be joined at graduation by friends and family including his cousin, Dr Kirsty Ross, a Senior Lecturer in psychology at the Manawatū campus. The degree of Doctor of Science is awarded for original contribution(s) of special excellence to knowledge in science. His thesis is titled: Health and Health Promotion and Applied Health Psychology in Stigmatized Sexual Minority Populations.