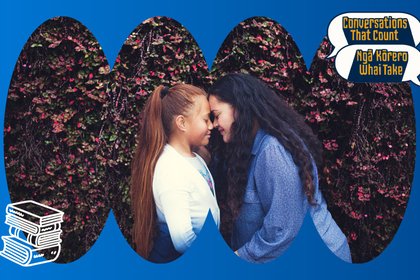 By Te Rina Krystal Warren and Rawiri Wright
Last week marked 50 years since the signing of the Māori Language Petition, led by Ngā Tama Toa and Te Reo Māori Society. There is success to be celebrated, including the growing favour for te reo Māori in teaching, learning and media platforms, but at the same time te reo and its proponents continue to face systemic barriers. Although there have been some significant gains for te reo Māori, we must continue to be vigilant in our revitalisation efforts. 
Education and the quest for knowledge is a foundation of the Māori world. The Māori desire to learn and understand the world was merely enhanced by the introduction of western mission schools, but that education system was soon weaponised against Māori.  This occurred through a series of legislated Education Acts which transferred Māori lands to the government, suppressed academic pursuits, prepared Māori children for labour, and eventually endorsed violence against Māori children and banned te reo Māori. The negative attitudes towards Māori and te reo Māori entrenched by these acts still endure today. Māori are still healing from this historical trauma.   
In response, Te Reo Māori Society and Ngā Tama Toa led the Māori Language Petition to reintroduce te reo Māori into the schooling system. This Māori language movement gave impetus to Te Kohanga Reo, Kura Kaupapa Māori and Wānanga Māori, significant Māori sites of resistance.  In their establishment the government was not forthcoming with funding, and those education sites operated outside of legislation and with no formal funding; whānau members pitched in to undertake all manner of school administration and operation, from teaching to cleaning.
The western schooling system was drastically failing Māori, and whānau felt that Māori attempts at a Māori education alternative couldn't do any worse. The revitalisation of the Māori language was, and is, as much about the revitalisation of the Māori spirit and Māori belief in ourselves.
Kura Kaupapa Māori, Kura a-Iwi, Tai-Wānanga and Māori Boarding schools outperform high-decile secondary schools in NCEA results, and are sites of Māori education success which also exceed national Māori pass rates. We must ask ourselves why our systems are reluctant to support those sites of Māori student success. There are two similarities across such sites – first that te reo Māori is a compulsory school subject, and second that Māori philosophies, ethos and approaches underpin the operation of the kura.  Although these schools produce te reo Māori speakers, and clearly demonstrate that Māori solutions are successful; they are under-funded with their rangatiratanga continually undermined within the education system.
There is a need for more teachers across the board, but only 12 per cent of teachers are Māori, and of course not all of them are te reo Māori teachers.  The teacher education programs Te Aho Tātairangi and Te Aho Paerewa are offered by Massey University in partnership with Te Rūnanga Nui o Ngā Kura Kaupapa Māori and delivered 100 per cent in te reo Māori.  They contribute around 15 per cent of all Māori teachers entering the workforce every year in English medium, bi-lingual, and immersion classes, but the programs continue to face systemic challenges for operation.  If Covid-19 has taught us anything, it should be the value of critical workers such as these.
In this episode the kōrero is about the socio-political and historical impacts of education on te reo Māori, and key moments of Māori resistance and potential pathways of growth for te reo Māori that are based on tino rangatiratanga.  For te reo Māori, the Māori language petition was a critical turning point. The idea that one can give expression to the provisions of Te Tiriti o Waitangi as "good Treaty partners," which will lead to equitable outcomes for Māori and te reo Māori continues to elude us – this is a symptom of settler colonialism. As Rawiri says in this episode, speaking of the need for a Māori education authority: kei te haere tonu te pakanga, kei pōhēhē tātou kua mutu te whawhai mō te reo Māori.
Our struggle endures, we must not be mistaken in thinking that our work is done.
Follow Conversations that Count – Ngā Kōrero Whai Take on Apple Podcasts, Spotify or your favourite podcast provider.
Monday 15 August 2022
The latest episode of Conversations that Count – Ngā Kōrero Whai Take tackles the big and often misinterpreted issue of workplace wellbeing.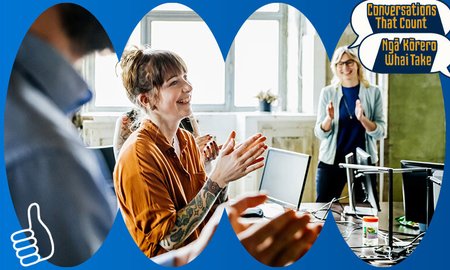 Wednesday 30 September 2020
In episode three of Conversations That Count - Ngā Kōrero Whai Take, our guests Professor Richard Shaw and Jess Brenton-Shaw dive into this complicated issue.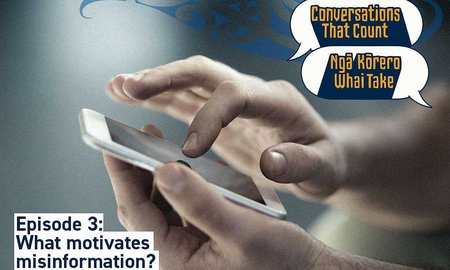 Wednesday 25 May 2022
Conversations That Count - Ngā Kōrero Whai Take is back for a third season, beginning with a kōrero about the state of literacy in Aotearoa.