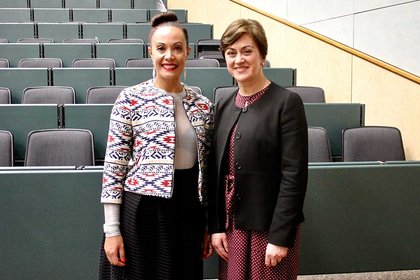 Last updated: Thursday 23 June 2022
This year's Vaughan Park/Massey University Sir Paul Reeves Memorial lecture was a poignant reminder of Sir Paul's concern for reconciliation between Māori and the Crown and a look to where that relationship might go in the future.
In marking the six-year anniversary of his death, his daughter, guest lecturer Judge Sarah Reeves, Te Atiawa, framed her discussion with a speech Sir Paul himself gave at Massey in 2009 in which he reflected on the importance of settlement and the greatest prize – reconciliation.
Judge Reeves is a Māori Land Court Judge and officer of the Waitangi Tribunal. In the lecture entitled 'Restoration, Redress, Reconciliation: A Reflection on Parihaka and resolution of Māori-Crown grievances in the settlement era', she quoted her father saying, "In a small way treaty settlements are one form of peacemaking we need to tell the world about. They're not perfect but they are significant. Without them Aotearoa New Zealand today would be a very uneasy place."
Judge Reeves reflected that Sir Paul had cared strongly about Parihaka, the pacifist resistance settlement in Taranaki sacked by colonial troops in 1881. She said he once wrote, "Someone has to say to Parihaka 'I accept responsibility because I have inherited the fruits of what was forcibly taken from you.'" But she said her father also believed within the Parihaka experience, lay the seeds of reconciliation and new beginnings.
She said his optimism was well placed because in June the Parihaka deed of reconciliation was entered into with the Crown. "The willingness of both parties to work together and to craft such an innovative and tikanga based process to lay to rest a significant historical wrong must be applauded and celebrated."
Co-lecturer, Puna Wano-Bryant, Taranaki, Te Atiawa, Ngāti Awa, is chairperson for the Parihaka Papakāinga Trust which negotiated the deed of reconciliation with the Crown. Ms Wano-Bryant explained the careful and tikanga-led process she and the Trust had worked through to reach an agreement and offered practical advice to others going through settlements. But she also looked to the future for Parihaka and the need for people to move on.
"To lay down our pain in exchange for peace as they lay down their weapons and their lives for us, is the least we can do to honour their memory. We will always mourn them but they didn't make sacrifices for us to live in pain. They sacrificed in order for us to be free. Feel it, process it, lay it down. We can do this we just need to choose it."
Judge Reeves says there is no denying the fundamental shifts in society caused by the settlement of historical claims in the last 30 years but looking to the future she says there are a couple of issues that might give clues as to how the relationship between the Crown and Māori will develop.
The first is the Government back down on the establishment of the Kermadec Ocean Sanctuary in the face of concerted Māori opposition.
The second was the recent Supreme Court decision that the Crown owed fiduciary duties to the owners of the Nelson Tenths land. "This decision recognises, for the first time in New Zealand, that in certain circumstances the Crown owes a legally enforceable duty to Māori which is independent of the Treaty of Waitangi or any statute." Judge Reeves went on to say, "This case presents an opportunity to the Crown to consider whether it is willing to restore its honour in those cases where there are clear legal breaches, which are claims of right, that can be determined by the courts. This is also a further opportunity to consider the value and application of tikanga in our law." 
Judge Reeves said much has been achieved in the settlement redress but there is still more to do. "This should serve as a timely reminder to the Government not to be complacent about past settlements and not to make the same mistake the Labour Government did with the Seabed and Foreshore issues where the rights of Māori to have claims determined by a court were legislated away. The Crown may have a bad institutional memory but I can guarantee you that Māori never forget."
Watch the full lecture here