Last updated: Wednesday 6 April 2022
Massey University today conferred an honorary Doctor of Science degree on renowned Dilmah Tea founder Merrill Fernando of Sri Lanka at its Manawatū graduation ceremony, in recognition of his strong leadership in ethical business within the food and beverage industry.
Dr Fernando built Dilmah Tea from humble beginnings in Sri Lanka into a global brand and one that is well-known and loved in New Zealand. His connections with Massey date back two decades, to the late 1990s when he worked with Distinguished Professor Paul Moughan, a nutritionist and Fellow Laureate at the Massey-hosted Riddet Institute.
Massey Vice-Chancellor Professor Jan Thomas said Dr Fernando was a deserving recipient and just the fourth international recipient of a Massey honorary doctorate.
"This degree is one of our highest honours and recognises Dr Fernando's great contribution to the tea industry and food science globally," Professor Thomas said. "It celebrates his prowess in business and science, including his valuable collaborations with Massey University and his commitment to ethical food production and his philanthropic activities.
"We are proud to welcome Dr Fernando into the ranks of our Massey University alumni and look forward to ongoing collaboration and research with his company, and with Sri Lanka."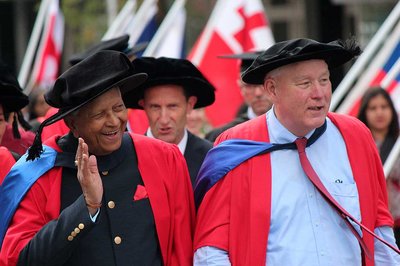 A leader in fair trade and ethical business
As part of Dr Fernando's visit, Massey announced a scholarship that will allow Dilmah employees or their family members to undertake professional development or degree study. Dr Fernando also took part in a tree-planting ceremony, planting a red silk tree used for shade on tea plantations, at the university's Manawatū campus.
"Merrill Fernando is an astute, humble, just and philanthropic leader," Professor Moughan said. "He is an inspirational role model for all of us. The Riddet Institute, one of New Zealand's Centres of Research Excellence, has undertaken research work over the years for Dilmah on the antioxidant and health properties of Dilmah Tea and has had a close working relationship with Dr Fernando through this work. Our relationship over the years with Dr Fernando has been productive and enjoyable. We have always admired his support of science and his ethical approach to business."
Dr Fernando has been widely praised for its leadership in fair trade and ethical food production, and the honorary doctorate also recognises work through the Merrill J. Fernando Charitable Foundation, which diverts 10 per cent of Dilmah's pre-tax profits to charitable aid, providing support for marginalised communities and for people at risk. The foundation is said to touch the lives of 10,000 people every year. Additionally, Dilmah Conservation makes significant philanthropic contributions to environmental and cultural interventions.

This commitment to Sri Lanka's people and communities has also been shared by Massey, with a recently completed twinning project with the University of Peradeniya. The project has helped build and implement a new curriculum for their veterinary programme, while strengthening the scientific and learning partnership between the two universities. The relationship was recognised at Massey's Defining Excellence Awards this year with Peradeniya awarded the Partnership Excellence Award.