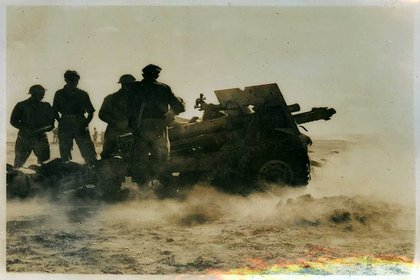 Last updated: Friday 18 March 2022
Massey staff are well represented in the recently published Routledge History of the Second World War. Edited by Paul R Bartrop, the book is a collection of close to 50 chapters, authored by a range of international scholars.
The College of Humanities and Social Sciences has four contributors to the book - the largest of any one university.
Professor Glyn Harper wrote a chapter on the campaigns in North Africa, while Dr David Littlewood contributed a chapter on New Zealand society during the war. Shawn Mawdsley, who is completing his PhD through Massey and is a tutor in the Centre for Defence and Security Studies, wrote a chapter on the war in Europe, as well as co-authoring the chapter on Australasian special operations with Dr Rhys Ball, who is also from the Centre for Defence and Security Studies.
Professor Harper says in March 2018, Paul Bartrop, Professor of History and Director of the Holocaust and Genocide Studies Centre at Florida Gulf Coast University, invited him to contribute a chapter on the North African campaign for a book on the history of the Second World War he was editing.
"After I agreed to write the chapter, Paul asked if I knew of other military historians who might want to contribute. I put him in touch with other Massey historians including the three who contributed to the book. It clearly demonstrates Massey's considerable strengths in military history and war studies, especially on the multifaceted complexion of the Second World War," Professor Harper says.
The publication brings together cutting-edge research from a number of leading scholars on the Second World War. It covers military campaigns, the social and cultural impacts of the war, mass atrocities, and how the war has been perceived by historians and the public.
Professor Harper wrote the chapter on North Africa based on research he completed for a 2015 publication on the same topic. It covers events in North Africa from 1940 to May 1943, including the three critical battles of El Alamein.
"This book is a significant publication in Second World War history," Professor Harper says. "It features the latest trends in the scholarship of the conflict. Some of the world's foremost authorities on the Second World War have written for this book, including Greg Kennedy, Richard Overy, Robin Prior, Jonathan Fennell and Gary Sheffield. Studies of 18 different countries including China, Japan, Germany, the USA and New Zealand are featured. The book will be a comprehensive reference volume for Second World War studies."
PhD student Shawn Mawdsley says the book achieves a good blend of early career researchers and established names. "I think this is essential for ensuring the continued development of our field and those who work within it. I'm sure it will remain a vital reference work for anyone interested in the Second World War."
Dr Littlewood says Massey's contribution to the book demonstrates the university's excellent reputation when it comes to researching war and society. "Not only do we have the Centre for Defence and Security Studies, but many members of the history programme are also experts in this area."
"While my brief was to write a chapter on New Zealand society during the war, I chose to focus specifically on the introduction and application of conscription. This is my main area of research and was the subject of a Marsden Fast Start project that I began in 2017," Dr Littlewood says.
He argues that conscription was the single most important factor that impacted on New Zealand society during the war, and was applied to a much greater extent than in Australia or Canada.
"Over 300,000 men were balloted for military service, and in 1942 conscription was extended into the productive and civil defence spheres, and to women as well. This meant it was a web that entangled the whole of New Zealand society. Yet despite the immense burdens that conscription imposed, the level of resistance to it was remarkably limited. Some New Zealanders were conscientious objectors, absented themselves from work, or appealed against being called up, but the majority carried out their obligations as required. This was largely because New Zealand already had a long-established tradition of 'big government' and state control, and because conscription was seen to meet the popular demand for fairness and equality of sacrifice."
For Shawn Mawdsley, contributing to the publication was a great opportunity. "An important part of any PhD programme is becoming acquainted with the publishing process, so I jumped at the prospect of writing a couple of chapters. I authored a chapter on the European campaign – something that was difficult to do within the confines of a single chapter. Moreover, lockdown conditions imposed some unique limitations on my writing, but in essence my overview chapter forms the frame around which the other authors can add more detail. It serves as an introductory piece for the land component of the European war. I also co-authored a second chapter, alongside Dr Rhys Ball, where we analysed the development of Australasian special operations. In this chapter, I drew upon my previous postgraduate research at the Centre for Defence and Security Studies, and I think it was a good example of how Massey students can collaborate with more senior staff to produce tangible academic outputs."
Shawn was drawn to Massey for its strong reputation in military history and defence. "It was the reason I first enrolled, and I know of others who were drawn to the university due to the expertise of faculty members and the focus of courses on offer. I think we can see the benefits of that in this publication."
For more information or to purchase a copy, visit the Routledge website.