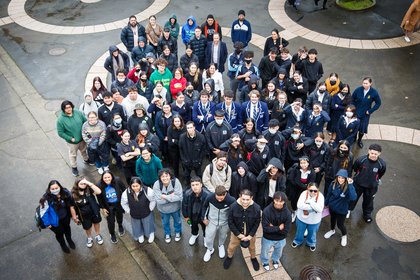 Future Students Adviser Tania Jahnke says this particular TMT programme for senior Māori secondary school students was held during Matariki to celebrate being Māori and plan for the future. "It is a great opportunity for rangatahi Māori to be informed, be inspired, and get a taste of university life so they can visualise themselves in the space."
The attendees were from Cornerstone Christian School, Freyberg High School, Inglewood High School, Waitara High School, Karamu High School, Manukura, Napier Boys' High School, Patea Area School, Wairoa College, Whanganui Girls College and WhyOra.
They heard from Associate Dean Māori Dr Bevan Erueti, who presented on the topic 'Our people, our stories, our Kaupapa! How Māori knowledge is influencing leadership in sport'.
The students learnt how to access financial support for tertiary study, and what other supports are available to Māori students while studying. They also heard aspirational stories from Māori Massey graduates who shared their lived experiences.
Cornerstone Christian School teacher Mr Carl McIntyre said he most enjoyed the inspirational presentation by Bevan, which emphasised tikanga to connect, and the sense of empowerment, inclusion, and pride at the ways in which Māori are supported to pursue academic success.
Pashence Shneider-Aranui from Karamu High School says she now feels much more confident about going to university. "Being the first to attend university in my family will be a big step for me and my whānau. I'm feeling much more confident."
Another attendee, Hamish Cardno from Napier Boys' High School, says he also enjoyed the day. "I thought the whole day was very enjoyable, and I learnt many new things that I hadn't even thought about before today."
Whanganui Girls College teacher Ms Amy Renata says, "I think that you opened the eyes of my students who did not see themselves going to university and inspired them, as well as those already planning to go, which is priceless."
Schools in the Auckland region will have the opportunity to attend Te Manu Taikō on the Auckland campus next week.
Monday 26 July 2021
Te Manu Taikō (TMT) a Kaupapa Māori programme for year 12 and 13 secondary school students was held on the Manawatū campus recently.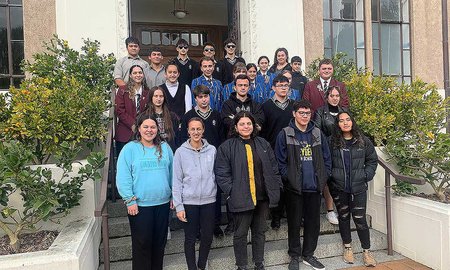 Thursday 8 August 2019
Te Manu Taikō concluded at the Wellington campus this month, having hosted the kaupapa Māori programme for years 12 and 13 secondary schools pupils earlier in the year at the Manawatū and Auckland campuses.