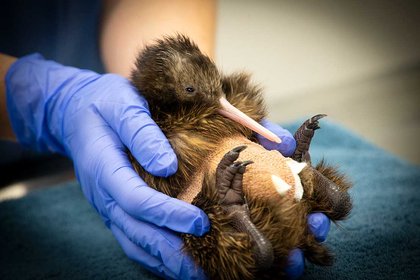 Last updated: Monday 16 January 2023
A kiwi chick has been saved by wildlife experts at Massey University and Pūkaha National Wildlife Centre after complications during hatching.
The male brown kiwi from Kaweka Forest Park was being closely monitored by the kiwi team at Pūkaha National Wildlife Centre during the hatching process when it began to have trouble freeing itself from the shell. The team decided it was time to take the kiwi to Massey's Wildbase Hospital, at the University's Manawatū campus for immediate medical intervention on Thursday, November 28.
Wildbase veterinary resident Kathryn Johnson says if the team at Pūkaha had not caught it so quickly, then the kiwi might have broken through his shell and bled out.
"The kiwi was not sitting right in the shell and usually the team at Pūkaha would be able to assist him, but this case was a little different," Ms Johnson says. "He had a swollen umbilicus which meant the normal process of hatching, where the blood vessels usually drain and he can break free safely, wasn't happening.
"So, we assessed the situation and we carefully got some suture material and were able to ligate [tie-up] those blood vessels, clamp them and cut them to ensure there was no bleeding. This allowed us to free him of the shell safely. We then put an iodine-soaked bandage to protect the umbilicus so it could heal.
To be a part of this, to experience a chick during their very first encounter with the world, it's something really special.
Those involved with Operation Nest Egg are ensuring the success of kiwi all around the country and we are proud to support their work."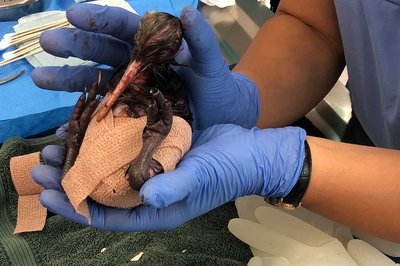 Raising a kiwi takes a village
The kiwi is recovering well and will be monitored by Wildbase before being released back to Pūkaha, which assists with hatching to build kiwi numbers as part of Operation Nest Egg. The programme combines the efforts of the Department of Conservation, community kiwi conservation groups, iwi, researchers and captive rearing facilities.
Since 2019, Pūkaha has collaborated with various kiwi reserves from around New Zealand, raising their chicks until they are old enough to be returned to where they come from.
Pūkaha National Wildlife Centre's Tara Swan says they are grateful to have the Wildbase team available for the kiwi. "Sometimes during checks of the kiwis Kaweka Forest, the teams come across eggs and these are brought to us at Pūkaha National Wildlife Centre. Our kiwi nursery has seen over 20 eggs come through this season from different projects across the North Island, with two still left to hatch" Mrs Swan says. "There is a nationally important population of Eastern North Island brown kiwi in the Kaweka Forest and the work is rewarding for the team and the volunteers that spend their free time monitoring the kiwi.
"We are proud to support the ECOED team and their goal of having 2000 kiwi in their reserve and every kiwi chick hatched counts."
Each kiwi chick is monitored and raised until hatch weight when it is released into the kiwi creche, where it will continue to grow until 1.2 kilograms and released back into the Kaweka forest.