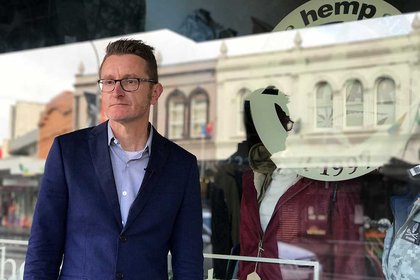 Last updated: Wednesday 25 May 2022
Associate Professor Chris Wilkins has been invited to join the Prime Minister's Scientific Advisors Expert Committee on cannabis law reform, alongside 10 other New Zealand academics.
Dr Wilkins is the leader of the drug research team at Massey's SHORE & Whariki Research Centre, and has research expertise in drug trends, drug markets, public health, and drug policy. Over the past twenty years he has completed a number of studies of cannabis use in New Zealand, including estimating the size of the cannabis black market, evaluating cannabis reform options, and proposing innovative not-for-profit models of reform.
"I am, of course, very honoured to be invited to be a member of this esteemed scientific group," he says. "Cannabis policy is so often a polarising and contentious issue. With the rapidly approaching cannabis referendum, the New Zealand public have indicated to us they are looking for balanced, evidenced-based assessments of the issues to make an informed decision in 2020. The calibre of this scientific committee gives me great confidence that high quality evidence and expert advice will be made available to the public ahead of the referendum."
In order to help inform the public in the lead up to the referendum on the legalisation of cannabis, Prime Minister Jacinda Ardern has asked her Chief Science Advisor, Professor Juliet Gerrard, to coordinate a short, authoritative, accessible and unbiased summary of the evidence for the harms and benefits of legalised cannabis. This will include an assessment of the international evidence base for the potential impacts of its legislation. It will not make recommendations.
The team will review and assemble the information into an accessible format, which will then be peer reviewed by the Chief Science Advisor Forum and international experts ahead of release, which is likely to be January 2020.
Dr Wilkins has published numerous journal articles on drug use, contributed to three books and regularly reviews manuscripts for Addiction, the International Journal of Drug Policy, Drug & Alcohol Review and Drug and Alcohol Dependence. He regularly presents papers at the annual meetings of the International Society for the Study of Drug Policy.
The Prime Minister's Scientific Advisors Expert Committee:
Associate Professor Joseph Boden - University of Otago
Dr Hinemoa Elder - University of Auckland 
Professor Benedikt Fischer - University of Auckland 
Professor Michelle Glass - University of Otago
Professor Tracey McIntosh (co-chair with Professor Gerrard) – University of Auckland
Dr David Newcombe - University of Auckland
Associate Professor Khylee Quince - AUT
Professor Doug Sellman - University of Otago
Dr Tamasailau Suaalii - University of Auckland 
Associate Professor Chris Wilkins – Massey University