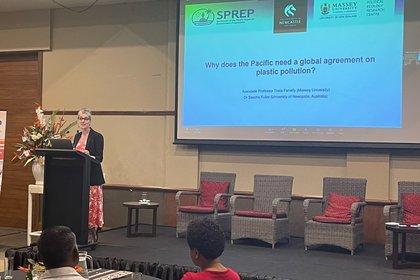 Last updated: Thursday 1 September 2022
The workshop was attended by state representatives from SPREP Pacific Island member countries, as well as the United Kingdom, United States of America, France, New Zealand, and Australia.
Earlier this year, 170 United Nations (UN) member states endorsed a mandate for a new global plastic pollution treaty. The scope of the treaty mandate captures the full life cycle of plastics, and includes microplastics. Treaty negotiations will take place across five Intergovernmental Negotiating Committees (INCs), the first of which is in Uruguay in November. Treaty negotiations are expected to be finalised by the end of 2024. The workshop in Suva, organised by SPREP, prepared countries for the upcoming INC-1.
INC-1 will be the first meeting in which the aim, objectives, priorities, definitions, procedures, and institutional arrangements of the plastic pollution treaty will be negotiated amongst UN member states. Civil society can also contribute to the negotiating process. In the past, Associate Professor Farrelly has represented civil society under the Non-Government Organisation Major Group with the Centre for International Environmental Law and the Environmental Investigation Agency. However, she now hopes Massey will be accredited under the UN Science and Technological Major Group so she can represent the university at INC-1.
Associate Professor Farrelly says she was pleased with the workshop's outcome statement. She has been supportive of Pacific Island countries through SPREP since 2018.
"One of my main roles towards the plastic pollution treaty has been to provide technical support to Pacific Island countries. This has included drafting national statements and interventions at the past UN Environment Assemblies, a regional declaration, and determining regional priorities, needs, and challenges at workshops such as this."
On the first day, Associate Professor Farrelly and Dr Sascha Fuller from University of Newcastle presented the results of their research, which included interviews with state representatives present at the workshop. The presentation illustrated why the Pacific Islands need a standalone plastic pollution treaty to protect themselves from global flows of plastic pollution.
"On the second day, I facilitated a conversation among SPREP members and invited delegates on what Pacific Island countries need to see in the treaty to support current and ambitious future national plastic pollution prevention plans."
The final day was restricted to member states, and Associate Professor Farrelly attended as an independent SPREP resource person. She presented the outcome of the day two discussion on national action plans.
You can read the outcome statement here.
Further information on the workshop and presentations can be found here.